White collar no shield for China's workers in downturn
The recent suicide of a worker at a contract cellphone manufacturer drove home the fact that in today's economic climate, Chinese employees are being forced to do more for less
People in China have long seen a university degree as a ticket away from the grim production lines and workplace abuse of its boomtown factories, but some graduates now face a fate that belies their investment of time and money.
The suicide of Sun Danyong (孫丹勇), a worker at contract cellpone maker Foxconn International who was accused of industrial espionage after a prototype Apple iPhone went missing on his watch, has thrown a spotlight on the plight of many of his peers.
The country has been battered by the global financial crisis at a time when a rising tide of degree-holders is flowing out of its fast-expanding universities. At least 3 million are still looking for work now, official figures show.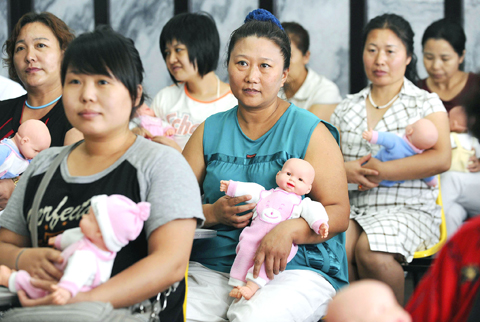 Unemployed women attend a workshop on babysitting skills in Shenyang, China, on Tuesday. A university degree has long been seen as a ticket away from the grim production lines and workplace abuse of its boomtown factories, but some graduates now face a fate that doesn't match their investment of time and money.
PHOTO: REUTERS
And in a country where the laws of supply and demand are often ruthlessly applied, the employment squeeze has had a predictable effect on graduates' futures.
"Their main pressure is to find work, so they go to the factories, where they have to start at the bottom," said Li Qiang (李強), executive director of China Labor Watch.
His organization last year highlighted the use of student interns on the production line at Foxconn, in an apparently prescient report on the company's hothouse working environment.
"It is quite normal for students to do this kind of work ... Often when they start they are fairly depressed, but they have more opportunities to rise than ordinary workers," Li said.
But in the hunt for a monthly salary, or fast promotion, graduates across the employment spectrum are now falling victim to some of the abuses, such as bullying and excessive overtime, well documented in cases of migrant workers in China's sweatshops.
"I didn't have a backup plan. It's so hard to get a job these days," said 24-year-old Liu Xiaoping, a Japanese-language university graduate who was tormented by his first supervisor but stayed with the firm.
Particularly vulnerable to despair when seeking a job, and to bullying when in employment, are those from poor backgrounds, whose families have often run up debts to pay for their child's education but have no contacts to help them secure a job.
Foxconn worker Sun was from just such a humble background.
An engineering graduate employed as a factory product manager, Sun was suspected of leaking secrets when an iPhone prototype went missing during his shift, local media reported. He jumped from his 12th floor apartment after the company raided his home, it said.
Apple expressed regret at his death and said it was awaiting the results of a formal investigation.
The same week that he died last month, another graduate factory-worker threw himself off a building, leaving behind a note blaming overwork after three months without a day off, local media reported.
"We have to raise awareness about rights. If not today it may be Sun Danyong but tomorrow it will be you or me," one angry commentator using the pen name Qi Zhi posted on a Web site about life working for Foxconn.
"It's just a company yet it insults a person like this!" said another poster Ying Pozi on popular forum Tianya.
Foxconn declined repeated requests for comment.
Though current discontent over job prospects echoes elements of the economic anxieties that fed the 1989 protests on Tiananmen Square, analysts say it is extremely unlikely that discontented students will take to the streets for now.
"Students, intellectuals and emerging urban middle classes were among the groups where a lot of effort was put into what is sometimes called 'strategic generosity,' making sure they have a relatively comfortable life," said Andrew Gilholm, Control Risks' senior analyst for China and Northeast Asia. "They are very much aware that they are the beneficiaries of how things are now, and any instability would be more of a threat than an opportunity for them."
Yet if the employment prospects at the end of a degree appear to be dimming, shutting off one of the few remaining avenues of social mobility in an increasingly stratified society, it risks creating long-term disillusionment with one-party communist rule.
Barely half this year's college leavers have secured jobs, Caijing magazine quoted a survey as saying, a figure far below official figures that two-thirds have signed contracts.
Although statistics on balance show that a job helps protect against suicide, even those in employment will be strained when the economy is rough, said Paul Yip (葉兆輝), Director for the Center for Suicide Research and Prevention at the University of Hong Kong.
"Whenever you have a poor economic climate you have to lay off a lot of people to save costs. But for those who remain in their jobs, because they have to do some additional work to cover the other workers, they are not necessarily immune to pressure," he said.
No longer a guaranteed ticket to a better job or salary, an education may provide one consolation, however, in a country that has always held its intellectuals in high esteem.
"The pressure they face isn't necessarily any more than that on ordinary workers. But if the university students face bad conditions, then the middle classes, the intellectuals, tend to rally around," Li said. "There are actually many instances of ordinary workers jumping from buildings ... they just don't get much attention."
Comments will be moderated. Keep comments relevant to the article. Remarks containing abusive and obscene language, personal attacks of any kind or promotion will be removed and the user banned. Final decision will be at the discretion of the Taipei Times.