Getting the most out of Twitter requires following the rules
Twitter is all the rage in social networking these days, but that doesn't mean it's easy to use effectively.
In fact, unless you're addicted to faceless Internet chatter, you may have already written Twitter off. Its 140-character limit on individual messages, after all, seems designed more for those with short attention spans and lots of time on their hands than it does for, say, a busy professional.
But there's more to Twitter than meets the eye.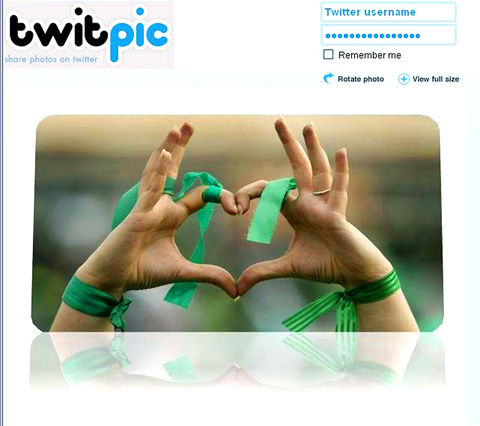 Twitter.com displays a photo posted by a Twitter group from Tehran University and captioned "MirHossein Supporter" yesterday.
PHOTO: AFP
Plenty of serious businesspeople, news junkies and well connected professionals of all stripes are turning to Twitter on a regular basis to promote their businesses, expand contacts or simply to keep abreast of subjects that interest them.
But to get the most out of Twitter, you need to scratch a bit beneath the surface. Here's how to start.
DITCH THE INTERFACE
Soon after you create your Twitter account, spend some time looking around to understand what it's about. You'll quickly learn that Twitter is a kind of a micro blogging tool. A "tweet," for instance — the word used to describe an entry — is a maximum of 140 characters long, forcing you to be succinct in describing what you're doing. The social networking aspect of Twitter kicks in when you "follow" other people who are discussing topics of interest to you. They in turn might "follow" you, either to reciprocate or because they're interested in what you have to say. The number of followers you have will ultimately become a source both of pride and influence.
But once you become familiar with Twitter, supercharge it by using a third party interface. Among the most popular — and powerful — are TweetDeck, Seismic Desktop and Orsiso. All three are small downloads, easy to install, and they are all vast improvements of the Twitter interface. That's partly because they allow you to keep track of multiple conversations, mentions of you and direct messages, and they offer many other niceties as well.
One feature that's particularly important for any Twitter application is a "shorten URL" box. Because Twitter restricts tweets to 140 characters, it becomes vital to provide a shortened form of Web addresses, or URLs. Many Twitter users rely heavily on the TinyURL site to provide the shortened URLs. Good third party Twitter applications do this work for you, however, allowing you to paste the full URL into a "shorten URL" box after you type your tweet. With one click, you can send both the tweet and shortened URL — a huge time saver.
SEARCH TWITTER
Even if you don't plan on using Twitter as a micro blog, it's probably important for you to know what people are saying on Twitter about you, your company or a subject in which you feel you have a stake. That search may be what pulls you into Twitter as a contributor — and what keeps you there.
Twitter Search is your official gateway into every subject discussed on Twitter, but the third-party Twitter interfaces all offer a search feature as well. Type a term — whether it's your company's name, your name or a subject that interests you, and you'll quickly see who's discussing it — and you'll be able to "follow" those who are and respond, if desired, to their tweets.
LEARN ETIQUETTE
As with any community, there are rules of etiquette — either spoken or unspoken — at Twitter, and you should know them if you want to cultivate or preserve your reputation. Chief among them is that you should not overtly use Twitter as a means to spam others — to brazenly promote a Web site, cause or product.
Twitter users can often spot a spammer by looking at the ratio of people following you versus those who you are following. If you're following thousands of people and only a few are following you back, that probably means you've used the site primarily as means of self-promotion. Spam is unwelcome on Twitter, just as it is in your inbox.
The partial exception to this is if you've created a Twitter account named after the product or company you represent. In such cases, it is expected that updates you provide will be about that product or company. Those who follow you will be expecting such updates.
HAVE AN IDENTITY
Your Twitter profile is crucial in legitimizing you or your cause to other Twitter members, so once you understand Twitter and have an account set up, you should spend some time on your profile. Others will use it to determine whether they wish to follow you.
Pay particular attention to the URL, biography, picture and design of the profile. A link to your Web site or blog can be helpful and a real name is important if you're expecting to attract a community of respectable followers. As with any other real-life community, you'll find the most success on Twitter — and the most usefulness — if you fully and accurately represent who you are and why you're there.
BE USEFUL
To make Twitter work for you, your cause or your company, you'll need to learn how to cultivate a following that matters. To do so, you must take the time to get involved in some conversations on Twitter. When you create your own tweets, concentrate on the quality of your Twitter posts.
People who use Twitter constructively are there to gather information, so you should contribute and compose your tweets with an eye toward their usefulness to others. A good way to figure out what to say is to answer the questions "what has your attention" or "what is important to you" rather than the standard Twitter question of "What are you doing?"
Pointing other Twitter users to resources, tips, articles, presentations, ideas or people of interest will help you to cultivate a large Twitter following.
DON'T DISAPPEAR
If you drop out of a group or community in real life, you'll lose that resource and all it has to offer. The same holds true for Twitter.
You don't need to be a slave to Twitter — creating multiple tweets every day — but it is important to show up on a regular basis. If you use Twitter for legitimate purposes — because you're interested in a topic or you'd like to keep people informed about your company, your profession or your cause — then incorporating Twitter into your life should not be too much of a hassle.
Twitter's 140-character limit on tweets and its opening question of "What are you doing?" has given many people the impression that the service is for the most superficial among us. But that's not the case.
On Twitter you'll find some of the most influential thinkers, newsmakers and professionals, and many of them are turning to Twitter as a preferred method of communication that's in keeping with today's busy digital lifestyle. Use Twitter to your advantage.
Comments will be moderated. Keep comments relevant to the article. Remarks containing abusive and obscene language, personal attacks of any kind or promotion will be removed and the user banned. Final decision will be at the discretion of the Taipei Times.