Make me greener
Eco-consultants are greening up the US by evaluating people's homes and lifestyles and offering advice on how to reduce their environmental impact
George Bryson and Alina Sanchez flunked the test on water consumption.
They had hired a consultant to tell them how they could do better at home in helping the environment, and although they did very well on energy use, water was another matter.
"I do a lot of thinking in the shower," Sanchez offered as a possible explanation, but the culprit turned out to be the sprinklers.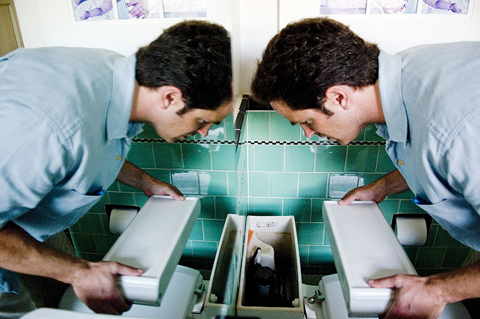 Eco-consultant Jason Pelletier checks a toilet for Alina Sanchez and George Bryson at their home in Westwood, California, last month. They hired a consultant to tell them how they could do better at home in helping the environment, and although they did very well on energy use, water was another matter. Environmental savings can be elusive, and the benefits and costs confusing. To help households wade through the information, consultants armed with stepladders and gadgets are selling advice on energy efficiency, indoor air quality and even methods for creating an eco-conscious wardrobe.
PHOTO: NY TIMES NEWS SERVICE
Environmental savings can be elusive, and the benefits and costs confusing. To help households wade through the information, consultants armed with stepladders and gadgets are selling advice on energy efficiency, indoor air quality and even methods for creating an eco-conscious wardrobe.
The field of personal and home eco-consultants is relatively new. GenGreen, a Colorado company that offers a national directory of businesses marketing themselves as green at gengreenlife.com, says it has just over 3,000 listings under the umbrella term environmental consultants, up from 657 when the database was started in 2007. They include energy auditors, health and wellness experts, interior designers and "eco-brokers," real estate agents who specialize in green homes.
While real estate agents can get training and certification as "eco" or "green" by trade organizations, and states like New York run energy audit programs with accreditation rules, there are no industry standards for most eco-consultants, who can range from environmental engineers to the self-taught.
Urvashi Rangan, the director of greenerchoices.org, a Consumers Union Web site that gives information on environmentally friendly products and labels, said that homeowners should exercise caution, and if they are thinking of hiring such a consultant they should do some research first and decide which areas they want to focus on before deciding if they want to pay for visits that can cost hundreds of dollars.
Bryson and Sanchez, business owners in their 40s who own a three-bedroom house in Los Angeles and who recycle and compost, said they hired Jason Pelletier, a co-founder of Low Impact Living of Los Angeles, to identify what they could do to be more environmentally sound. His three-year-old company offers eco-consulting and runs a green resource Web site that is supported by payments for advertising and for listings.
They were considering insulating their garage — where she has set up her office and which he wants to also use as a music studio — and wondered about the best environmental options.
Compared with doing their own research on the Internet, they said, a consultation offered the advantage of analyzing their needs in a short time.
"This is specific to us," Bryson said. "It's a great check-up and it gives you a baseline for improving things going forward."
Two-and-a-half hours and US$200 later, after an inspection of the 134m2 home they share with their two children (in addition to the 280m2 backyard and the garage), Pelletier gave them suggestions like switching to low-flow shower heads and to compact fluorescent light bulbs, and later followed up with a detailed report that compared the couple's consumption with the average for their region. He advised them to cut the use of sprinklers by between 30 percent and 40 percent, insulate the attic and replace the old water heater.
In addition, Pelletier said the couple would save US$1,200 a year in gas and cut their car-related emissions by 50 percent if they sold their cars — his, a 1997 Saab, and hers, a 1998 Volvo — and bought hybrids instead. Bryson and Sanchez said they were holding out for electric cars some day. In spread-out Los Angeles, their daughter's school is a 32km round trip, they said, and they are often caught in traffic.
"I sit on the freeway and I see all these cars," she said. "I feel we don't have an option" to avoid gas.
Frank Ackerman, an economist with the Stockholm Environment Institute, a research organization affiliated with Tufts University, said that people fret over their choices — install solar panels or unplug electronics, for example — but that not all efforts are equally beneficial for the environment.
There is no "one-two-three order" of priorities for every person, because much depends on where and how people live, said Ackerman, who is co-writing a consumers' guide to the actions that most benefit the environment with the Union of Concerned Scientists. But about one-third of the US' carbon dioxide emissions come from generating electricity and another third from transportation, most of it from the gasoline powering cars, the Environmental Protection Agency says.
So among his top consumer choices: living in smaller spaces to cut the use of electricity, reducing air and auto travel to diminish transportation-related carbon emissions and eating less beef, because its production is highly energy-intensive.
David MacKay, a physics professor at the University of Cambridge and author of the new book, Sustainable Energy — Without the Hot Air, said gestures like unplugging the cellphone charger when it is not in use should be seen for what they are — tiny.
"It's like bailing the Titanic with a teaspoon," MacKay said. "The energy saved by unplugging the cellphone charger for one day is the same energy used when you drive your car for one second."
Topping his list: turning down the thermostat in the winter, flying less and buying less "stuff," which he noted comes embedded with the energy it takes to make it and transport it.
Eco-consultants sometimes make it seem as if every possible change can be and should be adopted. That leaves some of their customers resistant to some of the recommendations.
Sal Scamardo, a 46-year-old independent film producer in New York, had hired a consultant even though he began with many environmental advantages — only 60m2 of living space to heat or cool, no lawn or daily automobile use. But he wanted to reduce his electric usage and improve indoor air quality, he said.
"I liked the idea of someone coming in and analyzing your lifestyle and taking a look under the covers," he said.
In April, he guided Stephanie Gregerman of Green Irene, a company with about 300 consultants in 45 states who get online training and offer US$99 "green-home makeovers" (along with the company's products), around his one-bedroom condo.
After a 90-minute inspection of the apartment, Gregerman discovered several green-home no-no's: nine incandescent light bulbs, a cabinet full of chemical-laden cleaning products and seven pieces of electronic equipment sucking power while not in use.
"Don't take my lava lamp," Scamardo pleaded, only half-joking.
Gregerman, who has had a long-term interest in environmental issues and formerly worked in marketing for a record label, gave him a long list of recommendations: Use compact fluorescent bulbs, get a power strip with an on-off button, pay extra for wind power from the local utility and set a five-minute egg timer while taking a shower.
The lava lamp was spared, but Gregerman also suggested using cloth instead of paper towels, giving up plastic bags and plastic water containers, replacing US$40 worth of cleaning products with nontoxic alternatives and composting food scraps.
Scamardo did not buy any products during the visit, and he rejected composting, which would entail saving leftovers until they could be dropped off at the nearest composting collection site.
"I don't see that working with my lifestyle," he said.
He has, however, applied most of the energy-saving recommendations, including no longer shaving in the shower to try to keep his showers under five minutes.
"If you're serious about, it is worth it," he said of the consultation. "It was customized to my way of living and I could ask questions."
Gregerman was understanding about his rejection of composting, saying later that only clients in their 20s seem open to the idea.
"Typically most people are not going to compost," she said. "It's either a space issue or it seems kind of crunchy."
There is also debate about whether individual action matters at all, with some experts noting that the most effective greening people can do is in the voting booth. No individual action could compare, for instance, to the emissions avoided if the government found a way to replace coal with other technologies to reduce dependence on fossil fuels, said Michael Shellenberger, president of the Breakthrough Institute, a research organization in Oakland, California.
He is among those who argue that the impact of individual reductions in emissions is largely irrelevant.
"People just want to feel good about themselves," he said.
But that is not to say there's no environmental benefit from reducing energy consumption. Ackerman said it is also important that the US, which produces more emissions of greenhouse gases per capita than any other country, serve as an example to others.
"Growing countries like China and India are looking to copy us," Ackerman said. "So it's of particular importance for us to develop a low carbon-version of a comfortable life, instead of a gasoline-fueled, high-energy lifestyle."
Clients come with varying needs and motivations, Pelletier said.
Three years ago, when Pelletier, an environmental engineer, started out in the field of eco-­consultancy, most clients were not only worried about the environment, but also "wanted to keep up with the Joneses," he said.
"Some would say, 'My neighbor has solar panels and a Prius, and I want solar panels and a Prius, too.'"
But times have changed.
"Over the last two years, that group has been replaced by those saying, 'I want to save money on my energy bill,'" he said.
Sanchez and Bryson said they understood the limits of individual action, but still wanted to do something. After studying Pelletier's report, they are reprogramming the sprinklers to reduce water usage, as well as considering car-pooling and a solar water heater, which Pelletier said could cost them US$2,500.
"I think it's more about living responsibly even if I can't single-handedly change the impact we have," Bryson said.
"It's doing what's right," Sanchez said.
Comments will be moderated. Keep comments relevant to the article. Remarks containing abusive and obscene language, personal attacks of any kind or promotion will be removed and the user banned. Final decision will be at the discretion of the Taipei Times.