Status, cash driving luxury apartments
M-SHAPED HOUSING The rich and many China-based Taiwanese are driving up the average price of houses and apartments, but every market has a bubble -- eventually
"Bringing you the life of royalty." "Majestic views." "The last quintessence of Taipei City." "Ultimate luxury and pleasure."
These are some of the eye-catching slogans of property advertisements that appear on building walls, in newspapers and on fliers distributed in the streets.
The demand for housing is now about much more than basic comfort and affordability.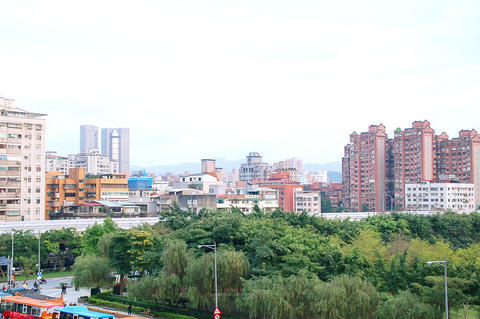 Buildings off Jianguo S Road and adjacent to the Da-an Forest Park in Taipei's Da-an District offer residents easy access to lush parkland.
PHOTO: LIN MEI-FEN, TAIPEI TIMES
Three years ago, some observers were dumbfounded when Hung Sheng Construction Ltd (宏盛建設) launched the landmark residential complex The Palace (帝寶) in central Taipei with the selling price of NT$1 million (US$30,400) per ping (3.3m2).
Brandishing luxury decor, a top location and roomy interiors, the The Palace complex was the nation's most expensive top-end residence with prices ranging between NT$130 million and NT$300 million per unit.
Defying the received wisdom that sluggish sales accompany properties for the very wealthy, The Palace's apartments sold out.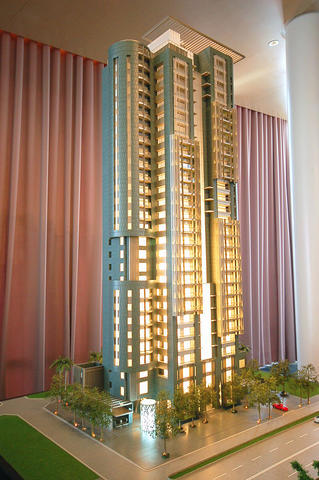 A model for a proposed apartment complex with this view of the park is shown at a China Medal Products Group display center in this undated photo.
PHOTO: LIN MEI-FEN, TAIPEI TIMES
There is less surprise over the prices of such apartments now that an increasing number of luxury complexes have made their presence felt in Taipei City over the past three years. The average size of an apartment has also expanded from the common 30 ping or 40 ping to 50 ping and even 120 ping.
The highest price tag so far was set by China Medal Products Group (勤美集團), which this year opened a residential complex near Da-an Forest Park at NT$1.3 million per ping.
China Medal Products Group will not hold the title for long, however. Its record will soon be broken by Shining Group (鄉林集團), which is expected to price its latest housing complex at NT$1.5 million per ping.
"Luxury properties have become a mainstream product in the market, especially in Taipei City," Shining chairman Lai Cheng-i (賴正鎰) said.
Shining, the constructor and operator of the famed upscale resort The Lalu (涵碧樓) at Sun Moon Lake (日月潭) in Nantou County, acquired a 1,135.02 ping plot of land near the Shilin Official Residence for NT$1.55 billion (US$47 million) last year.
To trump its competition, Lai said Shining would build top-end apartments based on a sumptuous "Lalu style" resort theme, adding that more than half of the 25 units have been purchased even before construction begins.
According to Shining's latest market report, during the last quarter 22,737 housing units worth NT$229.9 billion went on sale, compared with 24,092 units worth a total of NT$199.73 billion in the same period last year.
The figures show that the number of houses on the market is decreasing, but that the value is increasing significantly, supported by high-priced luxury properties.
Transactions of luxury apartments and houses in Taipei City for the first half of the year jumped 75 percent from the same period last year, according to data compiled by Evertrust Rehouse Co (永慶房屋). Transactions for such properties in Taipei County rocketed ahead by 233 percent in the same period, the data showed.
A good number of buyers of such niche properties are overseas Taiwanese businesspeople, mostly China-based, who have invested in the properties to save tax and demonstrate their wealth.
And the purchasing power of this segment of high-income buyers has remained intact even after banks tightened housing loans to cool off the housing market and avoid the risk of a new credit abuse storm.
`M-SHAPED SOCIETY'
Vigorous sales in expensive apartments have been attributed to a shift in overall income structure. Like Japan, Taiwan has emerged as an "M-shaped society" -- a concept discussed by the Japanese business strategist and author Kenichi Ohmae.
In an M-shaped society, the middle class begins to disappear, moving up or down in wealth terms to join the adjacent classes, according to Ohmae.
In 2005, the average disposable income of families in the lowest 20 percent of income earners was NT$297,694 per household, while that of families in the highest 20 percent was nearly NT$1.8 million per household, a gap with a factor of more than six, according to the Directorate General of Budget, Accounting and Statistics (DGBAS).
The gap factor was 5.34 in 1995, when average disposable income for the lowest 20 percent of families was NT$296,166 per household. In that year the highest 20 percent of families earned more than NT$1.58 million per household, DGBAS figures show.
GINI COEFFICIENT
The widening wealth gap is also reflected in the Gini coefficient, a measure of income inequality. A Gini coefficient of zero indicates complete equality of income, while a Gini coefficient of above 0.4 indicates great inequality.
Taiwan's Gini coefficient in 1995 was 0.317, and the figure has since steadily increased to 0.326 in 2000, then 0.34 in 2005, according to DGBAS.
"Unfortunately, there will be more people or households falling to the lower level of income than those who advance to the upper end of the M-shaped society," said Chang Chin-oh (張金鶚), a professor of land economics at National Chengchi University.
Continuing soaring housing prices and stagnant incomes have resulted in a record-high ratio of housing prices to average annual salaries.
A report released by Evertrust Rehouse in May said that the average price for a 30 ping apartment in Taipei last year was NT$10.12 million, representing an increase of 19 percent from 2005.
Average annual disposable income in Taipei households in the meantime was NT$1.07 million, down from NT$1.14 million in 2005, Evertrust Rehouse said. The figures showed that a person wanting to buy a house in Taipei would have to save every penny he or she made for 9.43 years.
The ratio, however, is expected to rise further on increasing house prices.
"The pursuit of luxury properties to demonstrate social status and increasing costs in land and building materials have unavoidably pushed up property prices in the past two years," said Su Chi-jung (蘇啟榮), a director at Sinyi Realty Inc (信義房屋), the nation's largest housing agency.
SCRAMBLING
Builders and land developers have been scrambling to bid for limited land in metropolitan Taipei, starting with two pieces of land in Da-an District (大安) at NT$2.85 million per ping in March last year, Su said.
The price of land hit a new peak two months ago when Cathay Real Estate Development Co (國泰建設) secured a 249 ping plot on the intersection of Hangzhou N Rd and Zhongxiao E Rd for a bid of nearly NT$4.45 million per ping.
Betting on brisk sales, property developers are racing to plunge into building more luxury apartments and houses. While some want to earn a quick buck amid all the frenzy, some are banking on cash flowing into the market if the government gives a green light to Chinese investment and Chinese visitors after next year's presidential election.
But this phenomenon did not indicate that people with low incomes would one day no longer be able to afford homes, Chang said.
"There is still a limit to the expansion of high-end properties," Chang said. "The market will eventually return to the fundamental rule of demand and supply."
Unlike lower-priced suites that are purchased as properties to rent out, large and expensive apartments are not such good investments in the longer term because reliable demand is needed to sustain sales, Chang said.
A period of marked interest in building upper-level product without considering demand may lead to a market crash similar to that of 1989, Chang warned.
The local real estate market was growing at full throttle in 1987, fueled by a prosperous economy and a dynamic stock market. The hype drove housing prices to a new high, but that bubble eventually burst in 1989.
With this precedent in mind, developers, homebuyers and investors should be cautious about any symptoms of an overheated market and avoid accelerating the formation of any bubble, Chang said.
"He who climbs high falls heavily," he said.
Comments will be moderated. Keep comments relevant to the article. Remarks containing abusive and obscene language, personal attacks of any kind or promotion will be removed and the user banned. Final decision will be at the discretion of the Taipei Times.