Vodka king enjoys giving money away
"Just call me Sid," Sidney Frank instructed a visitor recently. "Everyone else does." \nActually, that is not all they call him -- not in the liquor industry, anyway. These days, he is known to many as the "Two-Billion-Dollar Man." \nFrank, 85, is the chairman and chief executive of the Sidney Frank Importing Co., which has its headquarters here in New Rochelle. He earned his new moniker in June, when he sold his vodka brand, Grey Goose, to Bacardi. Industry estimates put the sale price at close to US$2.3 billion, a record for a single liquor product. \nSince then, the ebullient Frank has been busy giving away bits of his newfound wealth -- US$100 million here, US$10 million there -- and he is having a great time doing it. "I just love giving money away," he said. \nFrank introduced Grey Goose in 1997, and drove annual sales from about a hundred thousand cases the first year to a projected 1.8 million cases in 2004. That is no big thing compared with, say, Smirnoff, which sells more than 17 million cases a year. But Grey Goose is an imported luxury product and, in its class, its almost overnight success is unparalleled. \nBacardi, based in Bermuda and one of the world's major spirits producers, spends big for brands it wants. In 1992, it paid US$1.2 billion for Martini & Rossi, and in 1998 it paid US$1.9 billion for Dewar's Scotch and Bombay gin. \nGrey Goose is made in France, but most of its sales are in the US. The interest in such brands dates to the 1980s, when anti-Soviet sentiment in this country paved the way for vodkas from countries other than Russia. Absolut, imported from Sweden by Carillon Importers, was the first big success. \nWhen Frank decided to jump in, he chose a name -- Grey Goose -- that he had used a decade earlier on an inexpensive German white wine intended to compete with Blue Nun. The wine was a flop but he hung onto the name. He picked France as a source for his vodka, he said, because "the best things come from France." \nGrey Goose's unique frosted-glass bottle was an instant hit. Initially, it was packaged in wooden boxes, as are many fine wines, and in picnic baskets, with a free cocktail shaker and plastic martini glasses. "We were making a statement," Frank said. \nSidney Frank is something of a legend in the spirits industry, an outsize personality who harks back to figures like Sam Bronfman and Lewis Rosenstiel (who once was his father-in-law), men who lived more like Hollywood moguls than business executives. Frank spends half the year in New Rochelle and half in Rancho Santa Fe, near San Diego. \nUntil recently he played a lot of golf. He has memberships in eight golf clubs, four in the East and four in the West. He visits a course almost every day, even when it rains. "I go to the one with the best drainage," he said. \nThese days, though, he mostly just relaxes in a golf cart while one of his four full-time pros hits balls for his entertainment. He also has four full-time chefs. \nOn the road, for business or pleasure, Frank surrounds himself with an entourage that includes chefs, a golf pro or two, colleagues and friends. "There are usually about 20 of us," said Sarah Zeiler, his director of media relations. "We charter a 727." \nSidney Frank Importing has its headquarters in downtown New Rochelle. Frank works mostly from his home a few miles away. Though it appears to be a modest white colonial on a quiet residential street, the home is actually a small compound with an indoor and outdoor pool and several outbuildings for his staff, all set back in a copse of trees and surrounded by a low fence. \nSecurity is tight. The name Frank, printed on a driveway marker, is obscured with black tape. Recently, a private security guard sat in an unmarked sport utility vehicle a few doors away and a New Rochelle police car was stationed in front of the house. His driver, John Heine, is a retired New Rochelle police sergeant who doubles as an armed bodyguard. \nLike one of his idols, Winston Churchill, Frank spends much of his time in his bedroom, which is also his office and dining room, clad in little more than shorts and a pajama top. He is still big-framed and 1.8m, but time has taken a toll. He is a little unsteady on his feet and often needs help moving from his lounge chair to the dining table, where, for a man of pronounced tastes, he now eats little. \nFrank was born in Montville, Connecticut, where his father, Abraham, and his mother, Sarah, who was born in Russia, raised vegetables and chickens. He graduated from the Norwich Free Academy, which was not free -- his tuition was paid by his town, which had no high school. Frank, a 1937 graduate, has pledged to give the academy about US$10 million. \nHe attended Brown University for a year, then left for lack of money. In September, he gave the university US$100 million, the largest single gift in the school's 240-year history. "It's for scholarships this time," Frank said, alluding to the US$20 million he gave the university in 2003 for a new academic building to be called Frank Hall. \n"Brown means a lot to me," Frank said. His roommate during his time there was Ed Sarnoff, a son of David Sarnoff, the founder of the National Broadcasting Co. \nEd Sarnoff introduced Frank to his first wife, Louise Rosenstiel, known as Skippy, a daughter of Lewis Rosenstiel. Rosenstiel was the founder of Schenley Industries, one of the nation's largest distillers and importers of wines and spirits. \nThe Schenley connection did not pay off until after World War II, most of which Frank spent in Southeast Asia as a civilian troubleshooter for Pratt & Whitney, the aircraft engine maker. After the war, Rosenstiel asked him to use the engineering skills he had learned to help develop alcohol-based motor fuel. \nThe fuel program flopped, so Frank switched to liquor. In the Philippines and in Europe, he turned marginal businesses owned by Schenley into moneymakers. Returning to New York, he rose to become president of the company, only to be fired in 1970 in a family dispute. \nBlackballed from the industry by Rosenstiel, he formed his own company, he said, "with three men and a handtruck." To raise money, he sold his property in Antigua, his townhouse at 90th and Park Avenue, and his collection of Impressionism and contemporary art. His wife died in 1972. \nJacques Cardin brandy, which Frank acquired from Joseph E. Seagram & Sons in 1979, was his company's first profitable product. But it was not until another of his liquors took off in the 1980s that his fortunes truly changed. He had discovered the product, Jagermeister, an odd-tasting liqueur from Germany, in the lean years, on his strolls through Yorkville, New York's old German neighborhood. \nSome people compared the taste of Jagermeister to that of cough syrup, but undeterred, Frank acquired his first distributorship in 1973. He hired hundreds of young women, dressed them provocatively, named them the Jagerettes and sent them in the nation's bars to offer men free shots of the liqueur. \nIt worked. Jagermeister sales went from 600 cases in the United States in 1974 to 1.3 million last year, according to Impact Databank, an industry research group. \nIn 1997, a group of the Jagerettes persuaded the Equal Employment Opportunity Commission to sue Sidney Frank Importing for sexual harassment on their behalf. They charged that bar owners, bartenders and patrons had harassed them and that Frank's company provided no protection. Some said they had been harassed by Frank himself. \nThe company denied the charges but paid US$2.9 million as part of a settlement. \n"I never did anything that I wouldn't want someone to do to my daughter," he said at the time. Jagerettes still work the bars; male counterparts called JagerDudes concentrate on gay clubs. \nSid Frank was back on top. His art collection, now more impressive than ever, includes a Calder mobile that he sold for US$30,000 in tougher times and repurchased last year for US$500,000. In the Schenley days, he owned two Henry Moore sculptures; now he has 29. \nMeanwhile, the Two-Billion-Dollar man works steadily at shrinking the remarkable sum from the sale of Grey Goose. He has hired a financial adviser to "teach me how to spend money" and consults closely with his daughter, Catherine Halstead, of Seattle, on major gifts. A son, Matthew Frank, lives in Marin County, Calif. There are undisclosed gifts to them, and foundations have been set up for his grandchildren. He has given millions -- he will not provide a sum -- to various causes in Israel, and he has made huge gifts to employees. \nHe is setting up what will probably be known as the Sidney Frank Foundation. "It will be big," he said, in an uncharacteristic understatement. "It will have more than a billion dollars to work with." \nThere has been speculation that, given his age and with Grey Goose gone, Frank might sell what remains of his company. \n"Never," he replied. "We're doing extremely well, and we're rolling out some exciting new products. I believe in the old saying `Stay busy or die.' Besides, I'm having too much fun."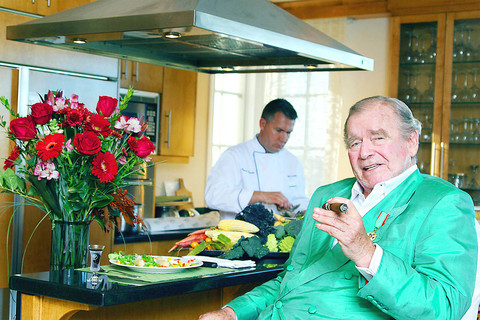 Sidney Frank, known as the ``Two Billion Dollar Man'' seen here at at his home in Rancho Santa Fe, California, in December, is chairman and chief executive of the Sidney Frank Importing Company, Frank earned the moniker in June when he sold his vodka brand, Grey Goose, to Bacardi.
PHOTO: NY TIMES
Comments will be moderated. Keep comments relevant to the article. Remarks containing abusive and obscene language, personal attacks of any kind or promotion will be removed and the user banned. Final decision will be at the discretion of the Taipei Times.