INTERVIEW: New GM believes quality counts in hotel business
The Mandarin Oriental Taipei has installed new general manager Karan Berry to drive revenue and profitability as the luxury hotel turns five years old this month. With 22 years of experience in hotel operations, Berry aims to steer the five-star facility with a hands-on approach. He shared his management strategy with 'Taipei Times' staff reporter Crystal Hsu in an interview in Taipei last week
Taipei Times: How would you characterize your management style?
Karan Berry: Presently, I won't make structural changes, but will focus on fine-tuning, looking at small opportunities where the Mandarin Oriental Taipei (文華東方酒店) can improve in a short period of time. Once I get to know the hotel and market very well, I will make necessary changes.
It is important for me to make correct and strategic decisions, as decisionmaking is the key of leadership. I like hands-on management and lead by example, or walk the talk. I work with my team, showing and explaining my vision and communicating my strategies. We run this hotel together.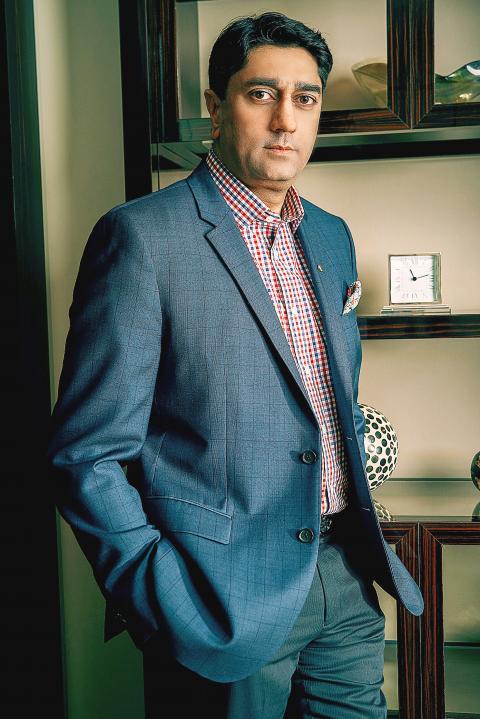 Mandarin Oriental Taipei general manager Karan Berry is pictured in an undated photograph.
Photo courtesy of Mandarin Oriental
I am the kind of person who thinks it is important to focus on details, as the devil lies in the detail.
Today, things evolve at a rapid pace. It is important to have new ideas. I firmly believe it is new ideas that keep business alive. I encourage people to spend 99 percent of their time planning and the other 1 percent on execution. That way, they won't have to spend time fixing problems.
TT: What are your business goals for the Mandarin Oriental Taipei?
The Ya Ge restaurant at the Mandarin Oriental Taipei is pictured in an undated photograph.
Photo courtesy of Mandarin Oriental
Berry: I aim to grow the hotel's revenue by at least 5 percent this year, under a total balanced scorecard approach. In terms of revenue, there should be growth in all segments, not just rooms, food and beverage, and other facilities.
One thing we can differentiate ourselves by is that for three consecutive years we have won the five-star award from the Forbes Travel Guide. We are the only hotel in Taipei with that distinction. Other properties might win only three or four stars.
The recently published Michelin Guide Taipei gave us its highest honor, the Five Red Pavilions award. Again, we are the only hotel to have that ranking. In fact, I meet with colleagues on a weekly basis to see if things are proceeding as desired.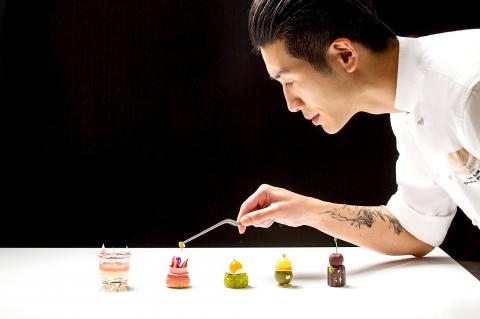 Mandarin Oriental Taipei executive pastry chef Yam Lok Hin puts the finishing touches on one of his creations in an undated photograph.
Photo courtesy of Mandarin Oriental
In terms of profitability, I am not looking to cut costs, which could lead to comprising on standards, and affect customers and colleagues. Rather, I am seeking to boost efficiency and eliminate waste. For example, if we have booking for 40 people, there should be no need to prepare food for 100 people.
TT: Employee turnover is high in the local hospitality industry. How are you going to cope with the issue?
Berry: We don't see a high degree of turnover at the Mandarin Oriental Taipei. The hotel employs 660 people and the turnover rate is below 5 percent so far this year — lower than for the same period last year thanks to our efforts to retain and groom talent.
We raise the payroll for employees in line with a performance-based scheme that factors in inflation and the cost of living. We also do team building, family gatherings and staff outings.
We are not just hiring for positions, but for careers. We are looking at their potential, training needs and personal development plans.
We also offer staff exposure opportunities at other Mandarin Oriental properties and cross-exposure at other hotels. It is important to work at hotels in different cultures to expand one's perspective.
I would describe my Taiwanese colleagues as energetic, humble, eager to learn and yet willing to accept challenge. They embody the concept of service with a smile, a positive quality for the hospitality industry. It is my top priority to identify people who can train to fill senior management positions in the coming years.
TT: Would you share your business strategy for improving sales?
Berry: Localization is the key word. As many as 75 percent of consumers prefer to buy products in their native language. It is important to keep in mind the local language and regional values when formulating marketing plans. Things that work in Singapore might not work in Taiwan. Different countries have different traditions.
For instance, Easter is not celebrated in Taiwan, but it is celebrated in other countries. The Lunar New Year is celebrated in Taiwan, but not in other places.
We have weekly meetings to see how we can create "wow" moments for guests. We try hard to create good memories and stories for guests so that they experience a high level of personalization, in addition to excellent food and service, when they stay at our hotel.
Toward the end, we pay attention to details: Where are the customers coming from? Are they traveling with family or alone? What do they eat? If the guest is left-handed, we set the fork and knife accordingly.
TT: The hotel's Chinese restaurant Ya Ge (雅閣) in April won one-star recognition from the "Michelin Guide Taipei" for a second year in a row. Will you push it to pursue a higher honor?
Berry: Getting one-star recognition for Ya Ge for the second straight year is a tremendous motivation. That is a testimony to how consistent we have been with our food and service quality.
The Mandarin Oriental Hotel Group (文華東方酒店集團) with its 32 properties is known across the globe for its culinary excellence.
We have 22 Michelin-starred restaurants at our hotels. It is important that we continue to deliver a consistent and high-quality dining experience. As long as do that, we will continue to get recognition. I prefer to look at the means to the end, and not the other way around.
TT: Are you concerned over excessive competition in the industry as more international hotel brands come to Taiwan, while the increase in inbound travelers is modest?
Berry: Not at all. I believe there is more room for growth. Taipei will attract more international travelers, as well as businesses, for meetings, incentives, conferences and exhibitions. The increasing presence of international hotel brands suggests that they share the positive outlook.
Competition is always healthy for the market, as it means more opportunity to learn and improve. It also helps lift Taipei's profile and enhances its reputation on the international stage. I personally was surprised that there are 24 Michelin-starred restaurants in Taipei. That gives international guests enough reason to extend their stay and come back.
Comments will be moderated. Keep comments relevant to the article. Remarks containing abusive and obscene language, personal attacks of any kind or promotion will be removed and the user banned. Final decision will be at the discretion of the Taipei Times.