HTC seeks license for medical VR product
Smartphone maker HTC Corp (宏達電) has set its sights on earning an operating license from the Food and Drug Administration to commercialize a new medical virtual-reality (VR) product in the first quarter of next year.
Dubbed Surgical Theater, the VR product could begin to be adopted in clinical use and provide HTC with new revenue streams from the healthcare sector, the company said at a news conference yesterday.
The company also announced that it has sold Taipei Medical University its latest VR offering, 3D Organon, a bundle of 10 Vive Pro VR headsets that provide visualized anatomy information for education.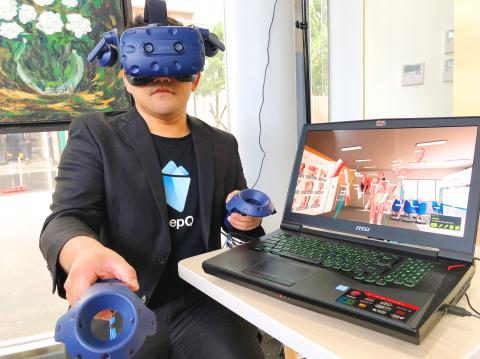 A man demonstrates HTC Corp's 3D Organon VR product, which provides 3D visualized information on anatomy for use in teaching, at a news conference in Taipei yesterday.
Photo by Kao Shih-ching, taipei Times
Medical students usually learn human anatomy from 2D models and diagrams in textbooks, or from donated cadavers, which are often in short supply, university Department of Anatomy professor Chang Hung-ming (張宏名) told the Taipei Times.
With the VR teaching system, students can see a computerized simulation that more clearly depicts human anatomy, especially the nervous system, whose components are thin and mostly hidden behind muscles and cavities, Chang said.
A 360o view allows users to see the human body from all angles to better understand how everything is connected, and they can also peel back layers or isolate 4,000 body parts to have a specific view, HTC healthcare division DeepQ director Jerry Cheng (鄭志偉) said.
"Users can even go through the virtual body to have a clear look inside at parts such as the spine and cavities," he said.
However, it is hard for a VR system to substitute for "silent teachers" (大體老師) — people who have donated their bodies to medical schools — as "students cannot touch or feel the elasticity of muscles in virtual reality," Chang said.
Besides Taipei Medical University, HTC has also sold 3D Organon to Tri-Service General Hospital and Taipei Municipal Wanfang Hospital, which plan to use the product for shared decisionmaking with patients, Cheng said.
While the firm has begun marketing 3D Organon, which costs about NT$100,000 per unit, HTC said it has also applied for a license for Surgical Theater, which would cost significantly more.
The company has received three medical appliance licenses from the US Food and Drug Administration for Surgical Theater, which provides accurate information that can even be used to help surgeons navigate operations, Cheng said.
As HTC has already conducted clinical trials in the US, it expects to receive approval from the Taiwanese agency by the first quarter of next year, Cheng said, adding that it would market the product to domestic hospitals first and expects to see revenue from the healthcare sector soar.
Comments will be moderated. Keep comments relevant to the article. Remarks containing abusive and obscene language, personal attacks of any kind or promotion will be removed and the user banned. Final decision will be at the discretion of the Taipei Times.