Increasing sabotage of olive trees plagues Palestinian farmers
Palestinian farmer Mahmud Abu Shinar surveyed two rows of severed olive trees — something he said has become a sadly familiar sight.
He did not see who took a chainsaw to them at night, but he blames residents of an Israeli settlement a few hundred meters away.
"We came on Sunday and were shocked that all these trees were cut down," Abu Shinar said. "I called the landowner. They came and the [Israeli] army and security forces came too, but of course it was useless."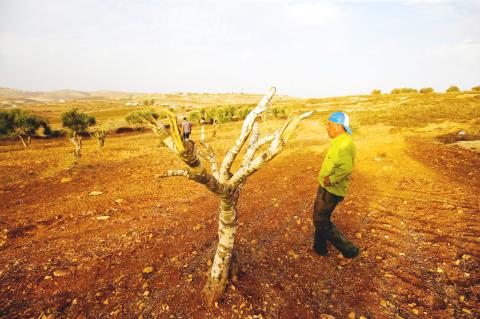 Farmer Mahmud Abu Shinar walks among destroyed olive trees at his farm near the West Bank village of Turmus Aya in the Palestinian territories on Oct. 22.
Photo: AFP
Olives are perhaps the most well-known and abundant Palestinian product, with trees lining valleys and terraced hillsides throughout the occupied West Bank.
The first rains after the hot summer months are the signal for farmers to begin harvesting their crop, but it can come with risks.
In many places, farmers have said that they face intimidation and violence from nearby settlers and call in support from foreign and Israeli supporters, including Jewish rabbis, to protect them and their crops.
Some of the incidents have been seen as attempts at revenge following Palestinian attacks on Israelis, even if the farmers targeted were not involved.
In other cases, there is little motivation other than just to destroy Palestinian property, rights groups have said.
Some rights groups have distributed video footage of such incidents in a bid to pressure Israeli authorities to act.
Israeli settlers have said that their crops have also been damaged by Palestinians, including an incident in May, when about 1,000 grapevines were allegedly destroyed.
More than 7,000 Palestinian-owned trees have been vandalized this year, UN data showed. In the whole of last year, it was less than 6,000, the year before only 1,600.
Abu Shinar said that over the past few weeks, about 200 trees were destroyed in fields he works on near Ramallah in the central West Bank, costing thousands of dollars in lost earnings.
"They want the land," he said, of the settlers. "Who else would come and commit a crime like this?"
The body that represents West Bank settlements said there was also an increase in attacks on Israeli-owned farms, labeling it "agricultural terror."
Israeli police said they were "investigating a number of incidents when damage was caused to olive trees."
"There have also been a number of complaints made by Jewish owners of fields of damage caused to olive trees," police said.
Patrols have been stepped up, police spokesman Micky Rosenfeld said.
However, rights groups have said that Palestinian crops have long been vandalized by settlers without any serious effort by authorities to stop it.
About 400,000 Israelis live in settlements that dot the West Bank and range in size from large towns to tiny hamlets.
The international community considers them illegal.
A few dozen kilometers north of Abu Shinar's trees near the city of Nablus, a small group huddles under a tree, picking through the leaves for olives.
Just 10m away stands an abandoned house daubed with Hebrew graffiti, while the Israeli settlement of Har Brakha is over a hill.
Israeli forces patrol the area, with one soldier telling the Palestinians they are "there to help."
However, the farmers said that two days earlier settlers had run down and damaged trees, adding that the army is often slow to react and sides with settlers.
They invite international and Israeli supporters to attend the picking season to help protect themselves.
Retired Briton Caroline, who declined to give her full name, said she has traveled to the region each year for a decade to work with Palestinian communities close to "particularly difficult settlements."
This year, she said that she went with a female farmer to her land near a settlement, but the army blocked their path.
"When she eventually got into the groves, 100 of her trees had been chainsawed down by settlers. There weren't even any olives for us to pick," she said.
Rabbi Gil Nativ has made sure to wear his kippa as he picks olives to show Palestinians not all Jews support Israeli settlement expansion.
"Some [Israelis] consider us as traitors," said Nativ, who volunteers for the Rabbis for Human Rights organization.
"For me, the main principle of the Jewish faith is all men are created in the image of God and all human beings are descendants of the same Adam and Eve," he said.
Yigal Dilmoni, CEO of the Yesha Council, which represents Israeli settlements, said in a statement that the group deplores "all acts of vandalism and purposeful destruction of property."
He highlighted a series of Palestinian attacks on Israeli settlements.
Comments will be moderated. Keep comments relevant to the article. Remarks containing abusive and obscene language, personal attacks of any kind or promotion will be removed and the user banned. Final decision will be at the discretion of the Taipei Times.