DBS Bank unveils credit card with 'everyday' rewards
DBS Bank (星展銀行) yesterday launched a new credit card called the "Everyday Card," which allows cardholders to earn one reward point for every NT$5 spent on dining or at wholesale markets, movie theaters, gas stations, book stores and digital stores.
After launching two credit cards, the "Travel Card" and "Live Fresh Card," which provide flight mileage rewards and cash rebates, in June and August respectively, the bank said that it now aims to pursue consumers who want to collect credit points and spend them on goods or services.
The bank said its points have a lifetime validity.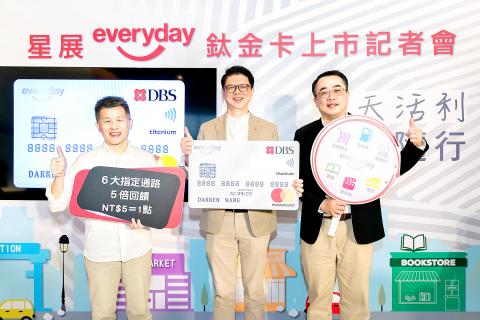 DBS Bank general manager Lim Him-chuan, center, poses during a news conference in Taipei yesterday to mark the launch of a new credit card aimed at everyday consumption.
Photo courtesy of DBS Bank
Even though many credit cards offer a reward program, "the reward points are often valid for two or three years, which cardholders dislike," DBS Bank executive director Calvin Lin (林群凱) said, citing MasterCard Inc data.
Given that daily consumption accounts for 42 percent of all credit card use in the nation, the Everyday Card gives better rewards on purchases in the six categories, Lin said, adding that the "consumer's desire is our desire."
Cardholders can also earn credit points for every NT$25 they spend in other categories, the bank said.
Even though banks are facing tough competition in Taiwan, "it is hard to find the same reward as our one point for every NT$5 spent," DBS general manager Lim Him-chuan (林鑫川) said.
The new card rewards spending at all restaurants and beverage stores, "as we found out that credit card consumption on dining has jumped 17 percent in Taiwan over the past six years, which is higher than average consumption," Lin said, adding that the bank hopes to increase total consumption.
"DBS has its credit card strategy and every credit card has different rewards for cardholders," Lim said, adding that if one bank issues too many cards without distinct characteristics, it is hard to manage and consumers are likely to become confused about which one to choose.
The number of cards the Singaporean bank has in circulation in Taiwan hit 676,784 as of the end of last month, ranking it second among foreign banks, DBS said yesterday.
The bank said that it hopes to issue more than 10,000 Everyday Cards within a month.
Comments will be moderated. Keep comments relevant to the article. Remarks containing abusive and obscene language, personal attacks of any kind or promotion will be removed and the user banned. Final decision will be at the discretion of the Taipei Times.