Elon Musk in Shanghai to attend government event
Tesla Inc chief executive officer Elon Musk was due to be in Shanghai at an event with the local government yesterday, according to people familiar with the plans, as the US-China trade war upends the world's largest market for electric vehicles.
Musk also plans to visit Beijing today and tomorrow, said one of the people, who asked not to be identified because the information is not public.
While details of the trip were not immediately available, Tesla has been working on setting up a production facility in China for more than a year.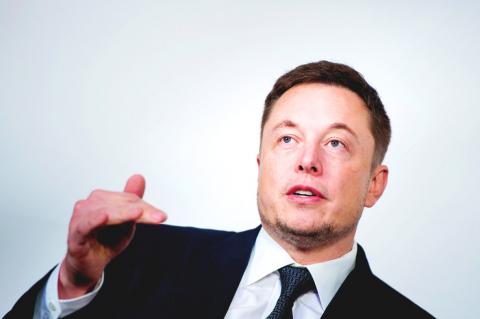 Tesla Inc chief executive officer Elon Musk speaks during a conference at the Omni Shoreham Hotel in Washington on July 19 last year.
Photo: AFP
That effort is getting renewed urgency because the US and China have increased tariffs on vehicles.
Tesla has raised prices of Model S sedans and Model X crossovers in China by as much as US$30,000 after Beijing imposed additional duties on US-built cars, putting its vehicles beyond the reach of more consumers in its No. 2 market globally.
A Tesla China spokeswoman did not return an e-mail and calls seeking comment.
The Palo Alto, California-based company's shares rose 3.1 percent to US$318.51 at the close of trading in New York on Monday.
Tesla in June last year said that it was working with the Shanghai government to explore local manufacturing.
The company's only assembly plant is in Fremont, California, and it also has a battery factory in Nevada.
In November last year, Musk said Tesla was about three years away from starting production in the world's biggest car market.
The factory is to make a couple of hundred thousand vehicles a year for buyers in China and potentially other parts of Asia, he said at the time.
Tesla probably would make the Model 3 and upcoming Model Y crossover in China, and would not build the bigger and pricier Model S or Model X there, Musk said then.
Last month, he told shareholders that the company might announce more details as soon as this month about plans to build a car, battery-pack and powertrain plant in Shanghai.
Comments will be moderated. Keep comments relevant to the article. Remarks containing abusive and obscene language, personal attacks of any kind or promotion will be removed and the user banned. Final decision will be at the discretion of the Taipei Times.