DBS opens exclusive Xinyi branch as it aims to grow private banking market
DBS Bank Taiwan yesterday opened a branch in Taipei's prime Xinyi District (信義) aimed at courting wealthy clients as the Singaporean group seeks to grow its Taiwanese private banking business.
The branch reflects the importance of the local market, where demand for private banking is growing fast, DBS Group head of consumer banking and wealth management Tan Su-shan (陳淑珊) told a celebration in Taipei.
Taiwan is the third market where the bank offers its DBS Treasures private client services, after Singapore and Hong Kong, as affluent clients have swelled following its acquisition of Australia and New Zealand Banking Group's (ANZ) Asian retail and wealth management businesses last year.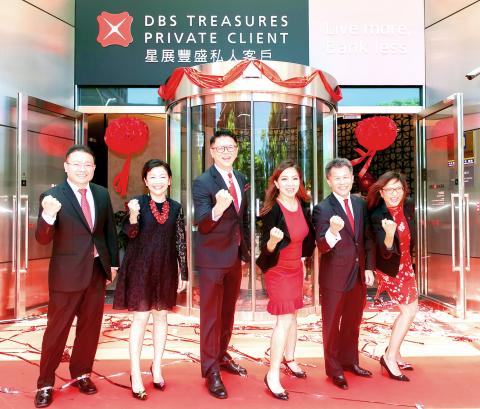 DBS Group head of consumer banking and wealth management Tan Su-shan, third right, and DBS Taiwan head Lim Him-chuan, third left, yesterday pose with four other officials in front of the bank's new private banking branch in Taipei's Xinyi District.
Photo courtesy of DBS
The flagship branch, which targets clients with NT$30 million (US$987,297) in assets, is to provide financial services, travel privileges and customized financial planning in a "friendly and private environment," Tan said.
"DBS Treasures private client services is our Asia-focused wealth management platform that offers customers the best of private banking and consumer banking," she said.
DBS seeks to outcompete peers by taking a more thorough look at clients' sources of wealth, so it can offer solutions to increase their portfolio, Tan said.
Affluent Taiwanese have shown a penchant for real-estate investment and DBS financial experts can help find real-estate investment trusts, private equity funds and other investment tools, Tan said.
DBS would also underscore the importance of legacy planning as many high-net-worth clients are aged 50 to 70, she said.
DBS ranks No. 6 in wealth management globally with assets under management growing 22 percent to NT$4.69 trillion in the first quarter of the year, company data showed.
ANZ contributed NT$493.7 billion of that growth, the data showed.
Meanwhile, the average incomes of wealth management customers rose 28 percent to NT$14.9 billion, Tan said.
The bank has gained significant headway in wealth management and innovation, and it would press ahead with digitalization, DBS Bank Taiwan managing director Lim Him-chuan (林鑫川) said.
The banking group plans to launch iWealth, an all-in-one banking and wealth management platform, in Taiwan in the third quarter of next year, Lim said, adding that the timeline could be shortened if clients so desire.
DBS private banking clients are offered a host of non-banking services, including airport pickups and lounge access at Singapore Changi Airport, DBS Taiwan Consumer Banking managing director Seraph Sun (孫可基) said.
Tan said DBS is mulling opening private banking branches in Taichung and Kaohsiung, even though it operates only one each in Singapore and Hong Kong, because Taiwan has a larger population.
Private banking clients might exceed 1,000 by year-end, from 800 at present, she said.
Comments will be moderated. Keep comments relevant to the article. Remarks containing abusive and obscene language, personal attacks of any kind or promotion will be removed and the user banned. Final decision will be at the discretion of the Taipei Times.