MediaTek's 5G modem to be ready next year
LEADING PLAYER: With new 5G standards being released this month, the company aims to have its first 5G modem, the MTK Helio M70, ready next year
MediaTek Inc (聯發科), which competes with Qualcomm Inc in the mobile phone chip segment, yesterday said it has started close collaborations with global telecom operators and device makers to unveil its first 5G modem processor next year.
Huawei Technologies Co (華為), Nokia Oyj, Japan's NTT Docomo and China Mobile Ltd (中國移動) are among MediaTek's partners for developing 5G technologies, the company said.
"MediaTek's first 5G modem, the MTK Helio M70, is to be ready next year, with specifications and performance matching new 5G standards, which are to be released this month," company president Joe Chen (陳冠州) told a media briefing in Taipei.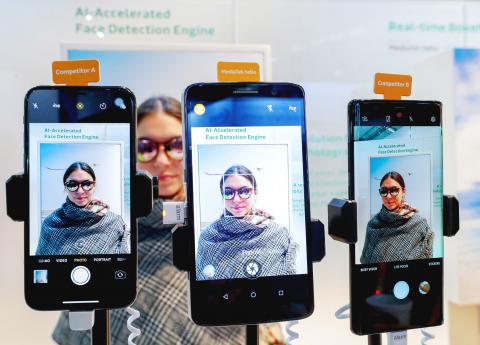 Mobile phones with the MediaTek Helio AI-accelerated face detection engine are displayed during the Mobile World Congress in Barcelona, Spain, on Feb. 28.
Photo: Reuters
The company has made good progress in developing 5G technologies, as it joined the 5G standard-building body, 3GPP, very early, Chen said, adding that this has been a different experience than during the 4G era.
Starting as a supplier of controllers used in traditional CD-ROM storage, MediaTek has lagged behind its global competitors and struggled to supply 4G chips.
"MediaTek will be one of the leading players in 5G technology," Chen said.
It is the company's goal to introduce its 5G processors to all addressable segments of mobile phones, similar to what the company did for its 2G and 3G processors, he said.
The company has decided not to limit itself to premium phones or any niche market, he said.
"MediaTek believes that the most sought-after user experience and features should not just be available on high-end mobile phones and should not be limited to certain countries," Chen said.
The company has contributed greatly to the proliferation of smartphones over the past two decades, allowing the public to access the Internet on a US$100 mobile phone rather than on a PC, he said.
Asked about Qualcomm Inc's signing of a memorandum of understanding in February with major mobile phone companies in China to supply them with 5G technologies, Chen said MediaTek would continue to deepen its ties with its Chinese partners, because China continues to be a major market for the company.
Comments will be moderated. Keep comments relevant to the article. Remarks containing abusive and obscene language, personal attacks of any kind or promotion will be removed and the user banned. Final decision will be at the discretion of the Taipei Times.