Alibaba buys delivery firm Ele.me in US$9.5bn deal
'HUNGRY YET?' The e-commerce market is surging in China as people increasingly turn to their smartphones to order food, schedule beauty treatments and hire domestic helpers
Alibaba Group Holding Ltd (阿里巴巴) is buying full control of the start-up Ele.me (餓了麼) as it steps up efforts to expand in China's fast-growing market for local delivery of food and other services.
The deal implies an enterprise valuation of US$9.5 billion for Ele.me, Alibaba said in a statement yesterday, without saying how much it is paying.
Alibaba and affiliate Ant Financial, formally known as Zhejiang Ant Small & Micro Financial Services Group Co (浙江螞蟻小微金融服務集團), already owned about 43 percent of the start-up.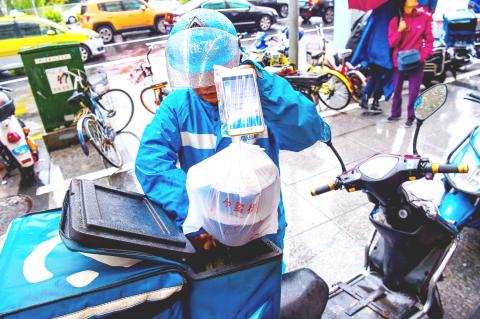 An Ele.me deliveryperson prepares to set off on a food order delivery from a restaurant in Shanghai, China, on Oct. 16 last year.
Photo: AFP
Alibaba paid all cash in the deal and has acquired all the shares formerly held by Baidu Inc (百度), a person familiar with the matter said.
Ele.me — which alludes to "hungry yet?" — operates an army of delivery people on motorbikes across the country and is vying for supremacy in the local services industry with Meituan Dianping (美團點評), a start-up backed by Alibaba rival Tencent Holdings Ltd (騰訊).
The market is surging as people increasingly turn to their smartphones to order food, schedule beauty treatments and hire domestic helpers. It is also strategically important for Alibaba and Tencent as a means to promote their respective payment services.
"As one of the most frequently used applications, food delivery is the single most important entry point in the local services sector," Alibaba Group chief executive officer Daniel Zhang (張勇) said in an internal email to staff members yesterday. "We can already see that a vast, multidimensional local instant delivery network formed through a food delivery service will be an essential piece of the commerce infrastructure."
Bloomberg News reported in February on Alibaba's plans to buy out other investors in Ele.me. In a sign of the heated market, Meituan has become one of the most valuable start-ups in the world.
The company is seeking to go public as soon as this year at a valuation of at least US$60 billion, people familiar with the matter said last month.
The Ele.me deal is part of a broader foray by China's largest e-commerce company into logistics and brick-and-mortar assets. Alibaba is taking over longtime delivery affiliate Cainiao (菜鳥) and putting money into warehouses.
It has also made investments in traditional retailers, including department store chain Intime Retail Group Co (銀泰商業集團) and China's largest operator of Walmart-style hypermarkets.
"If the Ele.me distribution network is integrated with Cainiao, it can become a more efficient asset and bring it to break-even quicker," New Street Research analyst Kirk Boodry said.
Baidu had ceded control of its own food-delivery unit to Ele.me last year as the start-up and Meituan became the two biggest competitors in China's online food-delivery market.
Ele.me founder Zhang Xuhao (張旭豪) is to become chairman of the company, while Alibaba Group vice president Wang Lei (王磊) is to become chief executive officer of Ele.me, a company statement said.
Alibaba continues an expansion in e-commerce as it faces greater competition across Asia.
The company last month said that it expects to invest another US$2 billion in Lazada Group SA to bolster its presence in Southeast Asia, where Amazon.com Inc. has launched in Singapore and Sea Ltd's Shopee is expanding to win consumers.
Comments will be moderated. Keep comments relevant to the article. Remarks containing abusive and obscene language, personal attacks of any kind or promotion will be removed and the user banned. Final decision will be at the discretion of the Taipei Times.