INTERVIEW: TAITRA chairman shares strategies at Jakarta expo
The Taiwan External Trade Development Council (TAITRA) held a Taiwan Expo in Jakarta last week to promote collaboration with Southeast Asian countries. At the expo's opening on Thursday, TAITRA chairmain James Huang talked about southbound strategies with reporters, including Kuo Chia-erh of the 'Taipei Times'
Taipei Times (TT): Some Taiwanese companies have had roots in Indonesia for more than 30 years, including those textile manufacturers that seek production bases with lower labor costs. From your observations, are there any emerging opportunities for Taiwanese companies to explore in Indonesia?
James Huang (黃志芳): Taiwan last year invested a total of US$397 million in Indonesia, indicating a 166 percent jump from US$149 million in 2016. The figure shows that a lot of Taiwanese companies have expressed interests in tapping into the Indonesian market.
There is a noticeable shift in business models. In the past, most Taiwanese export-reliant firms that chose Indonesia as their production base sold their products to overseas customers. However, in recent years, I have found that some companies have shifted their target to Indonesia's domestic market, such as tire maker Cheng Shin Rubber Industry Co (正新橡膠).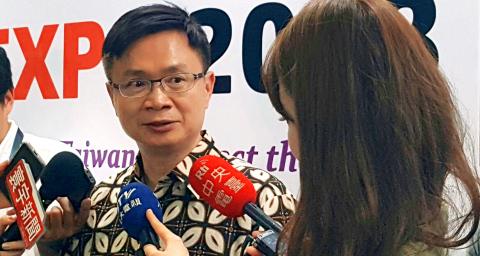 Taiwan External Trade Development Council chairman James Huang talks after the opening ceremony of the Taiwan Expo in Jakarta, Indonesia, on Thursday last week.
Photo: Kuo Chia-erh, Taipei Times
Apart from suppliers in traditional manufacturing industries, many services and "smart" solution providers have been trying to enter the Indonesian market, eyeing growing demand backed by the country's strong economic growth.
The trend echoes the government's New Southbound Policy, which encourages Taiwanese businesspeople to grasp opportunities in the domestic demand markets of our Southeast Asian neighbors.
TT: How can TAITRA help Taiwanese companies sell their products in the Indonesian market?
Huang: We launched the Taiwan Halal Center in Taipei in April last year, with the aim of promoting halal-certified products. Our colleagues working at overseas branches also help Taiwanese companies obtain related certification to export their products to Muslim markets.
It is so important for us to continue promoting halal certification, considering regulatory changes regarding Indonesia's food products. From next year, all goods distributed in Indonesia must be clearly labeled as halal-certified or non-halal.
TT: TAITRA held its first-ever Taiwan Expo in Indonesia last year. What were the features of this year's Taiwan Expo in Jakarta?
Huang: The role of the Taiwan Expo is to raise awareness about the New Southbound Policy and facilitate collaborations through matchmaking events. We introduce our best technologies and products to customers in different markets.
The size of this year's Taiwan Expo almost doubled from last year. For this year's exhibition, we invited 230 Taiwanese firms from 10 industries, ranging from machinery, home appliances and cosmetics to food and beverages. They used 280 booths to exhibit more than 4,500 products and services at the three-day event.
Aside from new booths and pavilions, we also organized a special team comprising officials from eight Taiwanese banks to investigate Indonesia's financial market. There is still much room for the development of the banking industry, given that country's population is nearly 250 million.
The Taiwan Expo last year generated orders worth about US$49 million in Jakarta and we expect the figure to grow by at least 20 percent annually this year.
TT: What are TAITRA's promotion plans for other Asian countries this year?
Huang: We are to hold a Taiwan Expo in New Delhi for the first time next month. India is a rapidly growing economy with a total population of 1.3 billion people and its economic growth is even faster than China and ASEAN members. The market is worth exploring further.
The India event aims to be in line with the Indian government's latest economic policies. The government has been pushing several programs that boost economic development, such as Make in India, Green India and Digital India. The size of India's digital economy, for instance, is expected to reach US$1 trillion in the foreseeable future.
We hope to meet rising demand in those sectors, since Taiwan is globally competitive in the manufacturing, green energy and telecommunication industries. TAITRA will also hold a Taiwan Expo in Vietnam, Thailand and Malaysia this year. Each expo will be themed to suit each country.
Comments will be moderated. Keep comments relevant to the article. Remarks containing abusive and obscene language, personal attacks of any kind or promotion will be removed and the user banned. Final decision will be at the discretion of the Taipei Times.