FEATURE: Pegatron chief wants to help creative people shine
Pegatron Corp (和碩) chairman Tung Tzu-hsien (童子賢) on Wednesday returned from China to attend the premiere of a documentary in Taipei, only to fly back the next day to oversee the company's plants in China as the business enters peak season with global brands gearing up for new product launches.
The documentary is about Taiwanese dancer and choreographer Lo Man-fei (羅曼菲), who died eleven years ago and was an old friend of Tung's. It premiered at the Taipei Film Festival on July 11 and opened for general viewing on Friday.
"The story of Man-fei's life is a legend. Man-fei's family, Cloud Gate Dance Theatre (雲門舞集) founder Lin Hwai-min (林懷民) and director En Chen (陳懷恩) have spent three years making this documentary as a way to record her story, to commemorate and to remember her," Tung told the Taipei Times after the premiere.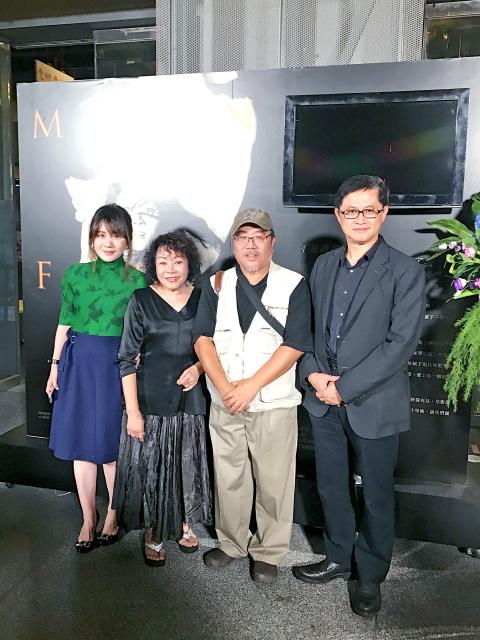 From left, Fisfisa Media Co chairwoman Ginny Wei, Lo Man-fei's elder sister Sophie Lo, director En Chen and Pegatron Corp chairman Tung Tzu-hsien pose before the premiere of Man Fei at the Spot Huashan Cinema in Taipei on Wednesday.
Photo: Hsu Shih-ying, Taipei Times
Tung was the biggest backer of the documentary, Man Fei (曼菲), which he supported via Pegatron's affiliate company, Ethos Original Co (藝碩文創).
Although he spends most of his time abroad, Tung is arguably the best-known corporate executive in Taiwan to support cultural and artistic activities and films. He has a stake in bookstore retailer Eslite Corp (誠品), which he invested in 18 years ago.
In 2009, Tung founded Fisfisa Media Co Ltd (目宿媒體) with paid-in capital of NT$96 million (US$3.19 million) to produce documentaries on writers and poets based in Taiwan and Hong Kong.
The Inspired Island — Series of Eminent Writers from Taiwan (他們在島嶼寫作), a documentary released in 2014, features five directors telling the life and works of six Taiwanese writers, including Lin Hai-yin (林海音) and Yang Mu (楊牧).
Last year, Fisfisa introduced seven writers from Taiwan and Hong Kong in the second series of The Inspired Island, and the company is preparing for a third series later this year.
"Mr Tung founded Fisfisa mostly because he loves literature. He hopes to use the language of images to preserve the beauty of literature and to inspire young talent in Taiwan," Fisfisa chairwoman Ginny Wei (魏菫君), who doubles as Tung's special assistant, said by telephone.
Pegatron management also wants to encourage employees to participate in cultural and artistic activities, Wei said.
Using his own money and some investment from Pegatron, Tung in 2014 established Ethos Original Co (藝碩文創) with paid-in capital of NT$668 million, which soon gained the public's attention with the award-winning TV series A Touch of Green (一把青).
The drama was directed by Tsao Jui-yuan (曹瑞原) based on novelist Kennith Pai's (白先勇) short story about the lives of a group of air force pilots and their wives between 1945 and 1987 in Taiwan and China.
Wei, who also chairs Ethos, said Man Fei reflects Tung's intention to extend his focus to dance.
"Man Fei opened a window for us. There are many good stories of dancers in Taiwan that are worth telling. We are mulling telling more of their stories," she said.
On Aug. 22, local media reported that Tung withdrew Ethos' investment in Q Place Creative Inc (好風光創意) due to losses of more than NT$200 million caused by the production of TV series, resulting in 24 young actors losing their jobs.
Q Place Creative had funded the production and screenplays of eight short TV series, including Close Your Eyes Before It is Dark (天黑請閉眼) and the acclaimed A Boy Named Flora A (花甲男孩轉大人).
Wei denied the reports, saying the company met its goal of producing eight TV series in two years.
Q Place Creative will launch an internal review to utilize its resources more efficiently and create quality content, Wei said.
"We did not 'withdraw' our investment. We will continue to support good screenplays and the training of actors in Taiwan," she added.
In an interview with the Chinese-language Apple Daily in July, when A Boy Named Flora A was at the height of its popularity, Tung said he did not invest in films and TV dramas to make a profit, including his personal investment in director Hou Hsiao-hsien's (侯孝賢) movie The Assassin (刺客聶隱娘) last year.
"I want to encourage people who wish to shine their creativity in arts and culture," Tung said. "I hope Taiwan's soft power in art and culture can help Taiwan to expand its reach further in the world."
Comments will be moderated. Keep comments relevant to the article. Remarks containing abusive and obscene language, personal attacks of any kind or promotion will be removed and the user banned. Final decision will be at the discretion of the Taipei Times.