Teco unveils automated center in landmark step
Teco Electric & Machinery Co (東元電機), which makes industrial motors and home appliances, yesterday unveiled its automated production center in Taoyuan's Jhongli District (中壢), marking the company's first step toward developing "smart" machinery.
Aided by three-dimensional robot vision systems and automated guided vehicles, the facility could reduce production costs by 10 percent compared with traditional manufacturing processes, the company said in a statement.
Teco, the nation's largest industrial motor manufacturer, has been allocating research and development resources to energy-efficient motors for several years to meet the global legal requirements of the IE3 and IE4 standards.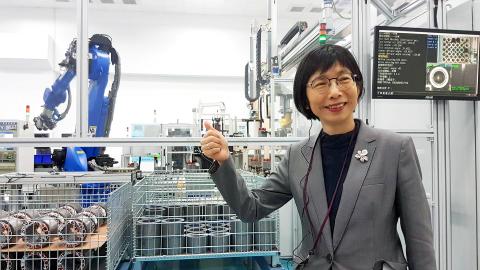 Teco Electric & Machinery Co chairwoman Sophia Chiu poses at an event to unveil the company's new automated production center in Taoyuan's Jhongli District yesterday.
Photo: Liao Chien-ying, Taipei Times
The facility, which cost US$10 million, is expected to raise the company's annual capacity of IE3 motors from 100,000 units to 220,000 units, the statement said.
Teco also aims to expand its presence in the "new energy" vehicle market this year.
The company last month signed a supply-and-purchase agreement with Finland-based Visedo Oy — which makes hybrid and fully electric trucks, buses and marine vessels — in a bid to seize business opportunities in Asia's "smart" hybrid and electric drivetrains market.
Bolstered by rising demand in China and Japan, Asia is forecast to be the world's fastest-growing market for electric vehicles by 2022, according to statistics compiled by Visedo.
Teco is to develop synchronous reluctance-assisted permanent magnet (SRPM) power systems through collaborations with the Finnish company, chairwoman Sophia Chiu (邱純枝) said last month.
SRPM technology is more efficient than traditional power systems based on standard permanent magnet motors or induction machines, Teco said.
The company is optimistic about its business outlook for the coming quarters thanks to a recovering global economy, saying that it has set a sales target of NT$50 billion (US$1.66 billion) this year, compared with last year's NT$49.9 billion.
Teco reported first-quarter net income of NT$535.8 million, down 21.6 percent from NT$683 million the previous year.
Earnings fell from NT$0.34 per share to NT$0.27 per share over the period, the company said in a filing with the Taiwan Stock Exchange.
While revenue in the first quarter rose 2 percent to NT$11.9 billion from NT$11.7 billion a year earlier, operating profit fell 13 percent from NT$1.03 billion to NT$898.7 million, with the company blaming the decline on foreign-exchange losses caused by a strong New Taiwan dollar.
Teco shares yesterday rose 1.38 percent to close at NT$29.45, outperforming the broader market, which edged up 0.47 percent.
Comments will be moderated. Keep comments relevant to the article. Remarks containing abusive and obscene language, personal attacks of any kind or promotion will be removed and the user banned. Final decision will be at the discretion of the Taipei Times.