Apple Pay wins against Aussie banks
Apple Inc has prevented efforts by Australian banks to form a negotiating bloc over the introduction of Apple Pay, a win for the US technology giant in the global battle to control the future of mobile payments technology.
In a final ruling released yesterday, the Australian Competition and Consumer Commission (ACCC) said that it was upholding its preliminary decision in December last year to refuse the banks permission to negotiate collectively.
"The ACCC is not satisfied, on balance, that the likely benefits from the proposed conduct outweigh the likely detriments. We are concerned that the proposed conduct is likely to reduce or distort competition in a number of markets," chairman Rod Sims said in a statement on the regulator's Web site.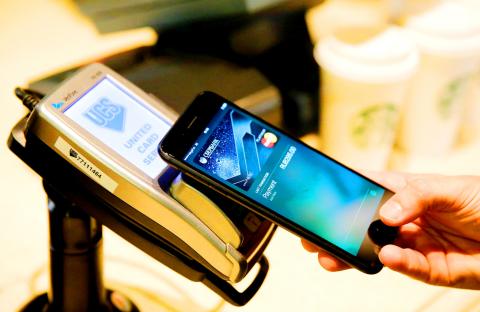 A man uses an iPhone 7 smartphone to demonstrate the mobile payment service Apple Pay at a cafe in Moscow on Oct. 3 last year.
Photo: Reuters
The banks, which have invested in their own mobile technology in recent years, fear being shut out of the fast-growing Australian payments market and hoped to negotiate as a group to boost their bargaining power.
Apple accused the banks — Commonwealth Bank of Australia, National Bank of Australia Ltd, Westpac Banking Corp and Bendigo & Adelaide Bank Ltd — of attempting to "delay or even block" the introduction of the technology.
The banks said they were "disappointed" by the ruling and would now individually review and determine their future strategy for mobile payments.
"Apple has a stated desire to own the entire mobile wallet, and will use the beachhead into mobile wallets, afforded to them by complete control over mobile payments on iPhone, to exert control over the rest of the digital wallet," the banks said in an e-mailed statement.
Australians are the world's biggest users of contactless payment technology, according to data from Visa Inc.
In their submission to the regulator, the banks all pledged to participate in the roll-out of Apple Pay in Australia in return for being granted access to the iPhone's near-field communications antenna — the technology that makes payments on contactless readers possible.
Without this, Apple would have a "stranglehold on this strategically important future market," they said.
Apple's technology bars any other app apart from its own from accessing the antenna's functionality.
In its submissions to the ACCC, Apple said this ensures the security of its customers and that it "will not modify its global approach" on the access issue in Australia.
Apple is the worldwide leader in mobile in-store payments, although in the US it has been facing increasing competition. It has also been facing headwinds in China where local rivals Alipay (支付寶) and WeChat Pay (微信支付) dominate.
Comments will be moderated. Keep comments relevant to the article. Remarks containing abusive and obscene language, personal attacks of any kind or promotion will be removed and the user banned. Final decision will be at the discretion of the Taipei Times.