Netflix, Amazon fuel LA office demand as streaming flourishes
Online streaming companies are scrambling to get their hands on prime office property, preferably with some history, such as Culver Studios, where 'Gone With the Wind' and 'Citizen Kane' were filmed
House of Cards needs more room.
Netflix Inc, the streaming service that is home to the political drama, last month leased an entire five-story office building in Hollywood, less than three months after signing a decade-long deal for adjacent stages and production offices, bringing its total space in the Sunset Bronson Studios complex to more than 46,500m2.
The surge in online television viewing is spurring a wave of big real-estate deals, as companies, such as Netflix, Amazon.com Inc and Google, snap up space to cope with increased production demands.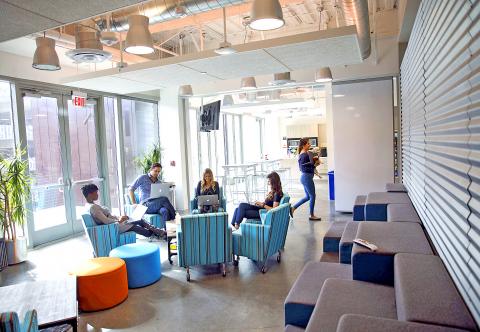 People work on laptop computers at the WPP PLC GroupM agency's shared office space in Playa Vista, Los Angeles, on Feb. 2.
Photo: Bloomberg
The amount of office space the entertainment industry occupies in Los Angeles County has climbed to the most this decade, with media tenants in 2.37 million square meters, up 277,780m2 from five years earlier, according to brokerage CBRE Group Inc.
The space the streaming companies lease has evolved from the small offices of a few years ago to the giant production facilities typically associated with traditional Hollywood studios.
"The sort of boom around those marketplaces has been specific to the digital media and the entertainment world converging with the technology world," said Victor Coleman, chief executive officer of Los Angeles-based Hudson Pacific Properties Inc, Netflix's landlord at Sunset Bronson Studios.
The surge in leasing by entertainment companies reaches from downtown LA and Hollywood to Playa Vista, once a stretch of marshland between Los Angeles International Airport and Venice that has become known as "Silicon Beach" because of an influx of media companies and digital start-ups. Entertainment-industry growth has helped an office market hurt by a years-long exodus of traditional users of corporate space, including hotel operator Hilton Worldwide Holdings Inc and defense contractor Northrop Grumman Corp, both of which moved to Virginia.
Like Netflix, BuzzFeed Motion Pictures set up offices in Hollywood, while Amazon Studios is in Santa Monica and producers of original shows for Hulu's service have used space at Culver City's historic Culver Studios, where classics such as Gone With the Wind and Citizen Kane were filmed. Netflix's expanded Southern California facilities is to be spread across multiple buildings at Sunset Bronson Studios, former home of Warner Bros Studios.
"What's going on in LA now is very similar to what we saw many years ago, when the cable companies were growing rapidly," said Jeff Pion, a vice chairman at Los Angeles-based CBRE.
Rising demand for digital content, and the additional production that comes with it, mirrors the era when cable subscriptions climbed and new TV channels brought viewers more options, he said.
Hollywood is not alone in offering historic facilities to new-media companies. Playa Vista — where companies, including Alphabet Inc's Google, Facebook Inc and Yahoo Inc have space — is on land that once was an airstrip for pilot and movie producer Howard Hughes, an allure not lost on its current tenants.
"Everyone wants to work where Howard Hughes was," said Alison Girard, Brookfield Residential's director of marketing for Playa Vista. "They want to come to a place with a story."
Google was one of the first companies to migrate south from Silicon Valley in 2003, initially setting up shop in Santa Monica before moving to Venice Beach. In 2014, it acquired 4.9 hectares in Playa Vista, including the hangar where Hughes built the H-4 Hercules airplane, known as the "Spruce Goose."
Google's YouTube unit also has about 3,800m2 next door under a long-term lease.
Demand for space is being bolstered by both commercial and critical successes for the streaming services. Netflix signed up a record 7.05 million new customers in the fourth quarter of last year, topping analysts' estimates for domestic and international growth to cap the company's first year as a global online TV service.
Its show House of Cards, an Emmy nominee for outstanding drama series last year, returns for a fifth season in May. Amazon, meanwhile, last month made history by becoming the first online video service to receive an Academy Awards best picture nomination for Manchester by the Sea, which secured a total of six Oscar nominations.
Entertainment companies have very different demands from those of older LA tenants. In Playa Vista, offices are spacious and relaxed, with young people in leggings and beanies working on their laptops while lounging on couches, sunk into beanbag chairs or perched on bar stools. Neon signs with inspirational phrases hang on the walls, while sliding doors link indoor dining rooms to outdoor patios strewn with hammocks and foliage. Employees' dogs run from room to room.
"Our mom and dads' office space is not the office space we want to work in today," Girard said, adding that the style once favored mostly by technology and media companies is catching on with traditional office tenants. "Now banks and lawyers want creative space too."
Comments will be moderated. Keep comments relevant to the article. Remarks containing abusive and obscene language, personal attacks of any kind or promotion will be removed and the user banned. Final decision will be at the discretion of the Taipei Times.