Asustek to boost robotics, VR segments
EXPANSION: The VR and AR industries are to from part of Asustek's growth drivers, as the company's tablet business is declining faster than expected
Asustek Computer Inc (華碩), the world's fourth-largest PC vendor, is accelerating the development of its robotic and virtual reality (VR) segments to offset the continued weakness in the PC and tablet businesses.
Asustek's tablet unit used to contribute more than 20 percent of the company's total revenue, and the employees of the unit account for more than 10 percent of the firm's total headcount, but the tablet business is declining faster than the company's estimate, Asustek chief executive officer Jerry Shen (沈振來) said.
"We have been reallocating resources, engineers and software developers from our tablet unit to the robotics, VR and AR [augmented reality] teams to enhance the new businesses," Shen told reporters after an investors' conference on Friday.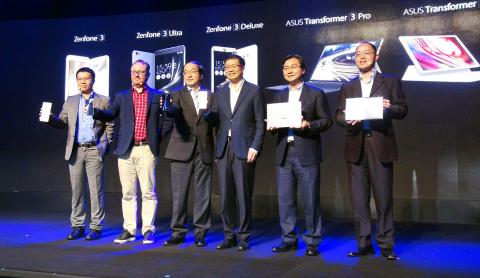 Asustek chief executive officer Jerry Shen, third right, is joined onstage during the Philippines' launch of the Asus Zenfone 3 range in Manila yesterday.
Photo: CNA
To step up development of Asustek's first robot, Zenbo, the company held a software development conference last week to call on outside developers to join the team to enrich Zenbo content, Shen said.
Asustek plans to launch the product in Taiwan at Christmas this year and on the Chinese market in the first quarter of next year, Shen said.
Zenbo is scheduled to arrive on the US market by the second quarter of next year, Shen said.
"Shipments of Zenbo are likely to pick up from the second quarter of next year and make sales contributions," he added.
In addition to robotics, Asustek sees the growing VR and AR industries as part of the company's growth drivers, Shen said.
Shen said Asustek plans to unveil total solutions for VR — a headset and joystick bundle with Asustek's desktop — at the Consumer Electronics Show in Las Vegas next year.
Asustek's VR total solutions is likely to be similar to Sony Corp's PlayStation virtual reality console, though Asustek's package might cost more than its Japanese counterpart, Shen said.
However, the price will be competitive because Asustek's product can be used as a desktop computer, while Sony's PlayStation is only a game console, Shen added.
The company also wants to differentiate its VR applications from content platforms, Shen said.
Asustek is in talks with mainstream VR content platform providers, such as SteamVR, Oculus and Tencent VR (騰訊), to jointly build content for Asustek's VR solutions, Shen said, adding that the company is also mulling developing its own games.
While the company's package is to be PC-based, its AR solutions are to be mobile-based, Shen said.
The company is collaborating with an international company to build mobile AR applications, Shen said, adding that its first AR application is likely to be similar to Pokemon Go.
Comments will be moderated. Keep comments relevant to the article. Remarks containing abusive and obscene language, personal attacks of any kind or promotion will be removed and the user banned. Final decision will be at the discretion of the Taipei Times.