Big tech firms eyeing finance, and bankers know it
Digital banking start-ups, the shiny new thing to keep sluggish and problem-laden incumbents on their toes, have yet to make a big noise in European finance.
They are too small to threaten existing players' huge balance sheets, risk-averse customers and high regulatory barriers to entry.
A much more potent competitor is created when these start-ups team up with big brands in the world of telecom and media. The threat sharpens as big tech wades ever further in.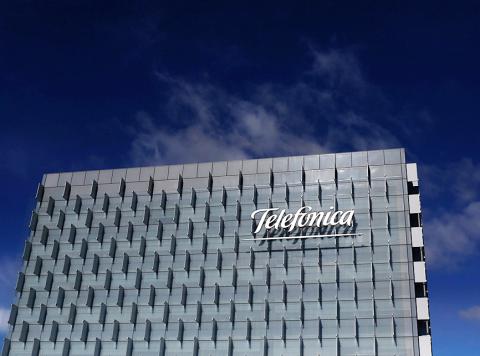 The logo of Spanish company Telefonica SA on its headquarters outside Madrid is pictured on Feb. 25 last year.
Photo: Reuters
The latest move in upstart finance is soon to arrive in Germany, where a new mobile banking service from telecom Telefonica SA is to offer checking accounts, a free MasterCard and small instant loans.
Telefonica is partnering with digital bank Fidor, effectively using its license as a springboard for financial services.
It is a deal that makes sense on both sides. Telefonica wants to assure customer loyalty, while maybe gaining a bit of revenue. Fidor needs scale: its customer base of about 100,000 in Germany is hardly the stuff of nightmares for, say, Commerzbank AG and its 16 million individual customers, but Telefonica's 43 million customers is a different ball game.
The combination also skips some hurdles. It would take time and money for Fidor to keep growing its user base alone — the bank's gimmicks, such as offering more lucrative interest rates based on the amount of Facebook "likes" it gets will not get it very far.
For Telefonica, the deal bypasses the strain of going it alone or partnering with an incumbent that might be less user-friendly or mobile-focused.
That is not to say it is a recipe for success — telecoms' past forays into finance have been mixed. Vodafone Group PLC's early experiments with mobile payments in Africa were a big success. T-Mobile US Inc started offering prepaid debit cards and money transfers to customers in 2014, but ended the service this month because it faced too many competitors.
Big global banking groups do not need to start quaking in their boots just yet.
The biggest risk comes when technology heavyweights such as Alphabet Inc, Apple Inc or Amazon.com Inc really start to zero in on their business. These giants are relentlessly innovative, and their reach — Facebook Inc alone boasts 1.65 billion monthly users — and grip on customers' personal data is virtually unparalleled.
Bankers see big technology companies as their chief competitive threat, according to a survey by Capgemini/Temenos published in November last year. Only a quarter surveyed thought their biggest future rival was already in business.
For now, the technology giants have barely scratched the surface. Apple and Google have mobile payment tools, Facebook users can send money to friends through Messenger and Amazon is pitching student loans in partnership with Wells Fargo & Co, but they are not exactly setting the financial world on fire.
Their Asian cousins are more advanced: Tencent Holdings Ltd's (騰訊) WeChat can now be used to pay for everything from rent to a taxi, while Alibaba Group Holding Ltd (阿里巴巴) runs mutual funds.
They are set to be the main competitors for the payments business in Europe, according to 96 percent of respondents to a Finextra/FIS survey of finance companies last year.
There is scope for them to make big inroads, after the European Commission introduced new rules opening up the market — and that is bad news for banks, which earn about a quarter of their retail revenue from the 128 billion euros (US$140.5 billion) business, according to Deloitte.
However, it does not have to be just a nightmare for incumbents. It could be an opportunity.
European banks could lift pretax profit by 40 percent in five years if they find the right way to limit the impact of disintermediation and capitalize on new technology, according to BCG Partners.
However, that will take time, money and strategic focus — that is all going to be in short supply, with European lenders under pressure to raise capital, deal with bad loans and comply with new regulations.
Deutsche Bank AG, for example, recently abandoned plans for a new digital bank in the US to focus on fighting fires at existing businesses.
With more ventures like Telefonica's on the way, expect the pressure to rise.
This column does not necessarily reflect the opinion of
Bloomberg LP and its owners
Comments will be moderated. Keep comments relevant to the article. Remarks containing abusive and obscene language, personal attacks of any kind or promotion will be removed and the user banned. Final decision will be at the discretion of the Taipei Times.