Riyadh approves plan to bolster non-oil economy
The Saudi Arabian government approved the first of multiple blueprints designed to reduce the kingdom's reliance on oil after the plunge in crude prices.
The Saudi Cabinet approved the National Transformation Program, part of the Vision 2030 plan unveiled by Saudi Deputy Crown Prince Mohammed bin Salman in April. The program aims to boost non-oil revenue to 530 billion riyals (US$141 billion) by 2020 from 163.5 billion riyals, according to documents distributed to reporters in Jeddah.
It also targets reducing public-sector wages to 40 percent of budget spending from 45 percent by 2020.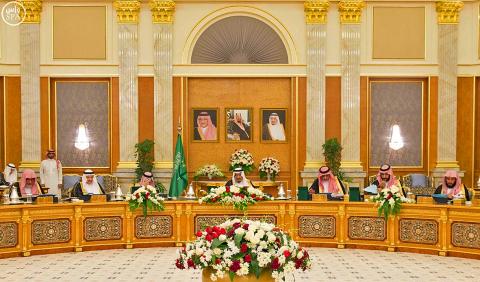 Saudi King Salman, center, chairs a Cabinet meeting in Jeddah, Saudi Arabia, on Monday.
Photo: Reuters
The drop in crude prices has strained the finances of the country, forcing rulers who had won political loyalty through government largess to retrench.
Prince Mohammed has said he plans to raise non-oil revenue by measures including cutting subsidies and introducing value-added taxation.
The kingdom also plans to sell less than 5 percent in Saudi Arabian Oil Co, increase employment to address a looming youth bulge and create the world's largest sovereign wealth fund. Seeking to diversify its assets with more overseas acquisitions, the fund invested US$3.5 billion last week in US ride-hailer Uber Technologies Inc.
Some analysts have questioned whether the government's goal to boost non-oil revenue to 20 percent of economic output by 2020 from 6 percent is realistic.
After decades of attempts to diversify, more than 70 percent of government revenue came from oil last year and the state still employs two-thirds of Saudi Arabian workers.
While Saudi foreign reserves remain among the world's largest, lower oil prices have put the economy under more pressure than at any other time in the past decade. Net foreign assets are at a four-year low and the IMF has projected a budget deficit of about 13.5 percent of economic output this year.
To bolster its finances, the kingdom raised a US$10 billion loan in April and is weighing a first international bond sale of as much as US$15 billion, according to people familiar with the matter. It has slowed payments to contractors and suppliers and is considering less conventional methods including IOUs to pay outstanding bills.
Moody's Investors Service cut the kingdom's sovereign rating last month for a second time this year, to "A1" from "Aa3," saying lower oil prices might cause a "material deterioration" in the nation's credit profile.
The kingdom's credit rating was also lowered by Fitch Ratings and S&P Global Ratings earlier this year.
Comments will be moderated. Keep comments relevant to the article. Remarks containing abusive and obscene language, personal attacks of any kind or promotion will be removed and the user banned. Final decision will be at the discretion of the Taipei Times.