Vietnam tells Formosa to dig up pipe amid disaster
'I CHOOSE FISH': A Formosa steel plant in Vietnam has been blamed for mass fish deaths, despite a lack of evidence, amid outrage exacerbated by the company
Vietnam has told owners of a Taiwanese-built steel plant to dig up a controversial waste pipe, even after it found no evidence tying its discharge to mass fish deaths that have triggered health fears and public anger.
Huge numbers of dead fish have appeared at farms and on beaches in central Vietnam since April 6, affecting 200km of coastline, with no known cause of what the government is calling one of its worst-ever environmental disasters.
Vietnamese Minister of the Environment Tran Hong Ha declared illegal the waste pipe operated by Hung Nghiep Formosa Ha Tinh Corp, a unit of Formosa Plastics Group (台塑集團), after officials examined water samples around the site.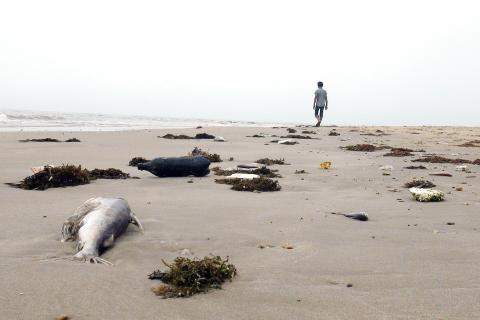 A man walks among dead fish on a beach in Quang Trach district in Vietnam's Quang Binh Province on April 20.
Photo: AFP
"We propose to have measures in place to monitor this system after it is elevated, for easy access and surveillance," Ha told Formosa officials and reporters on Thursday.
Ha's comments suggest the government still harbors doubts, despite tests that show Formosa, a major investor leading the US$10.6 billion steel project, was not behind the pollution.
Public outrage was also evident on social media, the only real channel through which Vietnamese get to vent in a country tightly controlled by the Vietnamese Communist Party.
In a statement yesterday, Ha said the government lacked experience in dealing with disasters and had been slow to act.
He called it a "very huge and serious environment disaster."
The government has banned the sale and distribution of non-living aquatic products in four affected provinces.
Its probe said either toxic discharge caused by humans or "red tide," when algae blooming at an abnormal rate produce toxins, may have killed the fish.
Facebook, which is used by about 30 million Vietnamese, is seeing an outpouring of anger directed at Formosa and criticism of the government's sluggish response.
Many used the hashtag #toichonca, which means: "I choose fish."
The hashtag emerged after a Taiwanese official at Formosa Ha Tinh said Vietnam had to choose between "catching fish and shrimp and building a modern steel industry."
He later apologized.
In a government letter issued yesterday, Vietnamese Prime Minister Nguyen Xuan Phuc said authorities had yet to find the cause, and acknowledged public concerns.
Vietnam's seafood exports, which totaled US$6.6 billion last year, will not be hurt, the industry's body said. Top buyers are the US, Europe and Japan.
A petition on the White House Web site is urging US President Barack Obama to raise the issue with Vietnam's leaders when he visits next month.
Comments will be moderated. Keep comments relevant to the article. Remarks containing abusive and obscene language, personal attacks of any kind or promotion will be removed and the user banned. Final decision will be at the discretion of the Taipei Times.