Exports plunge 13.9% on China slowdown and oil
SIX-YEAR LOW: Exports dropped to US$22.06bn amid weak demand from all trading partners, while imports fell even more, falling 15.6 percent year-on-year last month
The nation's exports declined 13.9 percent year-on-year last month, as the ongoing economic slowdown in China weakened demand for electronics ahead of the Lunar New Year and low crude prices dampened oil-related shipments, the Ministry of Finance said yesterday.
Outbound shipments dropped to a six-year low of US$22.06 billion last month and might remain sluggish in the coming months due to holiday disruptions and a relative high base in the first quarter of last year, the ministry said.
"The landscape might become clearer in March, when technology firms might start to build up inventory for next-generation devices," Department of Statistics Director-General Yeh Maan-tzwu (葉滿足) told reporters.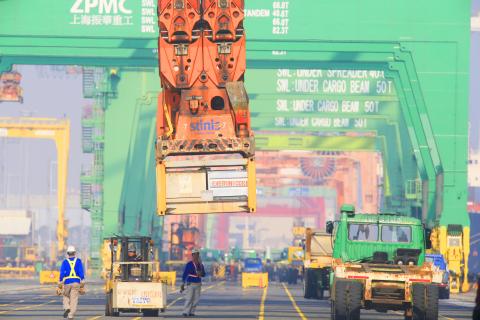 Harbor workers oversee a crane lifting goods at a port in Taiwan in an undated photograph.
Photo: CNA
Investors' conferences next week by chipmaker Taiwan Semiconductor Manufacturing Co (台積電) and camera lens supplier Largan Precision Co (大立光) might shed some light on the industry's order visibility going forward, Yeh said.
The latest export data suggested that inventory adjustments had yet to come to an end, as evidenced by a 7.3 percent decline in electronic shipments and a 31 percent slump in optics exports, she said.
Media reports that Apple Inc may cut production of its iPhone 6S handsets by 30 percent this year due to lackluster sales cast a shadow on earnings outlook for Taiwanese firms in the tech giant's supply chain, the ministry said.
Imports shrank more than exports last month, falling 15.6 percent year-on-year to US$17.89 billion and widening from a 13.7 percent fall in November, ministry data showed.
The ministry attributed the weakness to companies' reluctance to replenish raw material and electronics stocks amid a slowing demand.
That left a trade surplus of US$4.17 billion for last month, a 5.6 percent decrease from the same period a year earlier, the ministry said.
For the whole of last year, Taiwan's exports fell 10.6 percent from 2014 and imports plunged 16.5 percent year-on-year, both faring slightly weaker than the government's forecasts made in November.
The declines in exports came as all trading partners of Taiwan tightened their belts, as shipments plummeted 12.3 percent to China (including Hong Kong), 14.6 percent to Southeast Asia, and 1.7 percent to the US, while exports also dropped 3.1 percent to Japan and 11 percent to Europe, the ministry said.
The poor data reflected a continued slowdown across the world in which downside risks loom larger than expected earlier, Yeh said.
Expectations that oil prices will soon stabilize appear unlikely to be realized, as oil exporting nations refuse to rein in the supply glut, she said.
A lack of knockout innovations and growing competition from technology firms in China raise further uncertainty about Taiwan's export outlook, the ministry said.
Taiwan Institute of Economic Research (台經院) economist Gordon Sun (孫明德) said that exporters in Taiwan are facing fierce challenges ahead.
Apart from the rise of the fast-growing Chinese electronic components makers, the depreciation of the yen and the euro will also have a negative impact on the competitiveness of Taiwanese exporters, Sun said.
Comments will be moderated. Keep comments relevant to the article. Remarks containing abusive and obscene language, personal attacks of any kind or promotion will be removed and the user banned. Final decision will be at the discretion of the Taipei Times.