Southwest Airlines to pay US$2.8m in FAA lawsuit
MAINTENANCE: The Federal Aviation Administration sued the airline for ignoring its warnings over sloppy and unfinished work by contractor Aviation Technical
Southwest Airlines has agreed to pay US$2.8 million to settle a lawsuit by the federal government over fuselage repairs that a contractor performed on dozens of planes.
The US Department of Justice on Monday said that Southwest also agreed to pay up to US$5.5 million in additional penalties if it fails to improve oversight of contractors it hires to perform maintenance work.
The US Federal Aviation Administration sued Southwest in November last year in federal district court in Seattle, and the case was scheduled to go to trial in March next year.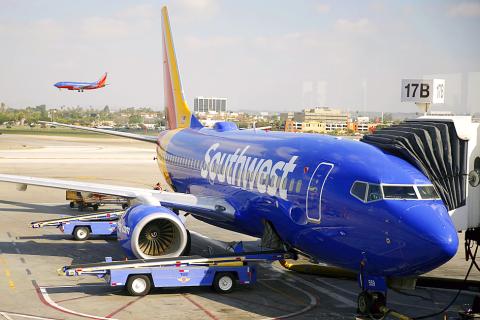 Southwest Airlines airplanes are parked at the Los Angeles Airport in California on Oct. 22.
Photo: Reuters
FAA Administrator Michael Huerta said the settlement give Southwest strong incentives to correct problems discovered by FAA investigators.
The government asked the court to let it fine Southwest US$25,000 to US$27,500 for each time one of the planes flew before the maintenance work was done properly.
In court filings, Southwest had denied all of the agency's allegations and called some of them hyperbole.
Southwest spokesman Brad Hawkins on Monday said that safety is the airline's top priority.
"We remain committed to meeting or exceeding all applicable FAA safety regulations," he said.
The FAA faulted work done by Southwest's contractor, Aviation Technical Services Inc (ATS) in Everett, Washington.
The agency said Southwest was still responsible for making sure that the work was done correctly.
The FAA charged that from 2006 to 2009, Southwest used 44 Boeing 737 planes that had undergone improper fuselage repairs.
According to Boeing instructions, when repairs are made to overlapping aluminum panels that make up a plane's fuselage, workers are to apply sealant between the panels and install new fasteners within a limited time. '
ATS workers placed fasteners in only some of the rivet holes during the allowed time, and they did not properly support the fuselage during the work, the FAA said.
The FAA said that it alerted the airline company about the improper work in April 2009, but it continued to use the planes for another six months before doing further repair work.
The FAA also said Southwest flew two planes in 2012 after workers failed to move electrical wiring when altering systems that drain wastewater from galleys and lavatory sinks, which could create a fire risk in event of a lightning strike.
An ATS spokeswoman said the company would have no comment.
Concern over cracks and repair work in fuselages has grown in recent years. In 2009 and 2011, holes tore open in the skins of two Southwest jets during flights.
Investigators blamed fatigue cracks in the aluminum, and Boeing ordered extra inspections for 737s.
Comments will be moderated. Keep comments relevant to the article. Remarks containing abusive and obscene language, personal attacks of any kind or promotion will be removed and the user banned. Final decision will be at the discretion of the Taipei Times.