China's producer prices slump 5.9%
TRANSFORMATION: Premier Li Keqiang sought to address economic slowdown fears, but warned that China is not immune to international market changes
China's factory gate prices fell at their fastest rate in six years last month, the government said yesterday, as Chinese Premier Li Keqiang (李克強) warned that transforming the world's second-largest economy is going to be a "painful and treacherous" process.
However, Li expressed confidence the country would hit its expansion target of around seven percent, as Beijing looks to soothe fears about a growth slowdown that have rocked global financial markets in recent weeks.
Moderate inflation can be a boon to consumption as it pushes buyers to act before prices go up, while falling prices encourage shoppers to delay purchases and companies to put off investment, both of which can hurt economic expansion.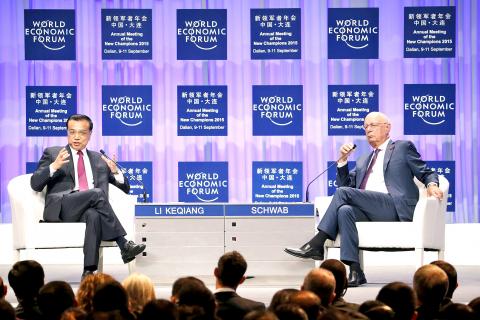 Chinese Premier Li Keqiang, left, shares a stage with World Economic Forum (WEF) founder and executive chairman Klaus Schwab at yesterday's opening ceremony of the WEF Annual Meeting of the New Champions in Dalian, China.
Photo: Reuters
However, prices for China's factory-produced goods have fallen as growth has slowed and overseas demand slackened, while the key property market has also weakened, hitting demand for construction materials. Plants — many of them state-owned — are also loath to drastically cut employees, leading to continued production even when demand is weak.
China's producer price index (PPI) declined 5.9 percent last month, the Chinese National Bureau of Statistics (NBS) said.
The result was the worst since a 7.0 percent fall in September 2009 and marked the 42nd consecutive monthly drop.
PPI is a leading indicator for consumer inflation, which rose to 2.0 percent last month, the NBS said, its highest in 12 months.
The consumer price index (CPI) rise was higher than July's 1.6 percent and the strongest since last August, driven by rising pork costs.
The growth slowdown and declines in commodity prices have helped keep China's consumer inflation in check, with some economists even voicing concerns about possible deflation.
"Looking ahead, we expect both measures of inflation to rebound over the coming quarters," Capital Economics China economist Julian Evans-Pritchard said in a note, referring to CPI and PPI.
Steep falls in pig numbers would keep food prices high, while the decline in global commodity prices late last year mean both inflation measures should strengthen soon on weaker bases for comparison, "which ought to help assuage any lingering concerns over deflation," he said.
China is looking to move its economy from the investment and export-led model of the past to one driven by consumer demand, and Li told a World Economic Forum meeting in the northeastern city of Dalian that it "is going to be a painful and treacherous process."
However, he insisted China did not threaten the world economy and was itself buffeted by global trends.
"China is not a source of risk for the world economy but a source of strength for global growth," Li said, stressing that it accounted for about 30 percent of world economic expansion in the first half of this year.
"China is an economy that is closely integrated with the international market," he said.
"Given the weak growth of the global economy, China cannot stay unaffected and the deep-seated problems that have built up over the years are also being exposed," he said.
Li said that policymakers would not be moved by short-term movements in the economy, while standing ready to take action as necessary.
"If there are signs the economy is sliding out of the proper range we have adequate capability to deal with the situation," he said.
"The Chinese economy will not head for a hard landing," Li said.
Comments will be moderated. Keep comments relevant to the article. Remarks containing abusive and obscene language, personal attacks of any kind or promotion will be removed and the user banned. Final decision will be at the discretion of the Taipei Times.