'Million Coders' begins
'YEAR OF CODE': New Taipei City has joined worldwide initiatives like the UK's 'Year of Code' in an effort to promote learning of computer programming in schools
The New Taipei City Government, American Innovation Center and US software giant Microsoft Corp yesterday launched the "Million Coders" campaign, which is to provide free teaching software for code development and coding courses, with the aim of educating 1 million people to code in Taiwan within the next 12 months.
The New Taipei City Government has introduced software coding to school curriculums, to build students' ability for logical thinking and problem solving. The campaign calls for schools nationwide to join.
Software coding is seen as increasingly important in the digital era, Microsoft said in a joint statement.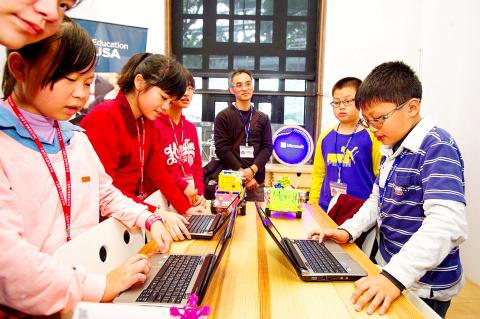 Children yesterday try their hand at educational software aimed at teaching students how to code at the launch of the "Million Coders," a joint initiative by the New Taipei City Government, American Innovation Center and Microsoft Corp in New Taipei City.
Photo: Courtesy of Microsoft Inc
The British government hailed this year as the "Year of Code," granting a £500,000 (US$779,000) budget this year to support elementary and high-school teachers in coding classes, and included it as a required course at the primary and secondary levels of education, it said.
The Hong Kong Education Bureau is planning to include a computer language coding course at elementary and middle schools, with the aim of establishing a good foundation for future information technology talent, added the statement.
"Computer engineering is one of the most highly paid careers nowadays, in the US we need more than 80,000 computer engineers in the market each year and the need is doubling. However, students graduating with related degrees are less than 2.4 percent and the number is decreasing, which leaves many great opportunities vacant," Larry Nelson, Microsoft Worldwide managing director, education partners, said in the statement.
New Taipei City has taken the lead in supporting the "Million Coders" campaign, estimating that the program would get 500,000 elementary and middle-school teachers and students to start coding.
It is estimated that from today until Sunday, New Taipei City will have 1,440 classes with 43,200 people joining the project.
The statement encourages teachers to deliver an hour of coding class this week, and hopes that students will enjoy the fun of learning how to code.
Comments will be moderated. Keep comments relevant to the article. Remarks containing abusive and obscene language, personal attacks of any kind or promotion will be removed and the user banned. Final decision will be at the discretion of the Taipei Times.