Alibaba's holiday bonanza batters vendors' margins
SINGLES' DAY SHOCKER: The annual Chinese sales event that draws billions of yuan thrashes margins for online vendors on Tmall, sources told reporters
Fresh from pulling off the world's largest IPO, China's Alibaba Group Holding Ltd (阿里巴巴) is set to impress Wall Street with record sales on China's Singles' Day holiday yesterday, the year's biggest online festival, but merchants complain that they bankroll the e-commerce giant's big day.
Last year, Alibaba reported sales of US$5.75 billion on the day and this year merchants believe it is aiming for a headline-grabbing US$8 billion or more in gross merchandise volume.
It looked likely to comfortably exceed that estimate, since before midday yesterday Alibaba founder and executive chairman Jack Ma (馬雲) told China's official state broadcaster that it had already hit 30 billion yuan (US$4.9 billion).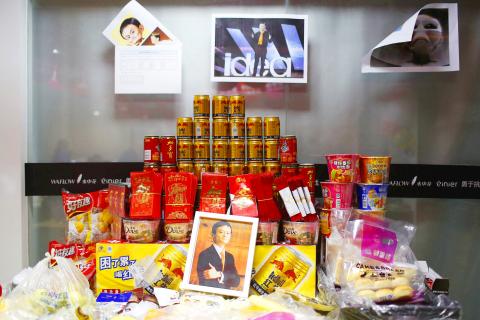 A table used for praying for good fortune at a Tmall office in Hangzhou features a picture of Alibaba Group Holding Ltd founder and executive chairman Jack Ma early yesterday.
Photo: Reuters
However, merchants told reporters that they had felt pressure from Alibaba's Tmall.com (天貓) to boost the day's figures with heavy discounts and delayed recognition of earlier sales.
There is no obligation on merchants to take part in the festival, but if they do, the only discount option is 50 percent or more.
On Tmall, merchants say that if they do not price products lower than in their stores on rival sites, Alibaba pushes them down the sales page, effectively limiting their access to hundreds of millions of potential customers.
When asked if this is true, Alibaba said: "We decline to comment on competitor's activities."
One merchant who closed his shop on Tmall earlier this year said: "[Tmall] hoped my sales numbers ... looked good and higher than sales at other e-commerce platforms."
"When I did not obey, my rank slipped ... It really hurt my sales," he said.
Alibaba is employing what it calls a "presale initiative," under which merchants advertise products at their discounted Singles' Day price from as early as Oct. 15. Tmall lets customers put down a deposit for the order, but only allows merchants to process the full payment and ship the products on Nov. 11.
The company said it has used such a scheme since 2012, since it helps merchants plan the logistics of shipping such large volumes of goods. Merchants said this year it was used much more widely and was aimed at boosting Alibaba's figures.
"This is a way that they can actually count that volume all transacted in one day," said one online store manager who asked not to be named in case it damaged his business. "They have never done a company-wide policy like this."
The efforts by e-commerce sites to boost the figures on Singles' Day have not gone unnoticed by regulators.
Last week, Chinese media outlets reported that China's State Administration for Industry and Commerce took aim at 10 of China's biggest e-commerce firms, ordering them to not engage in activities like artificially jacking up prices in the run-up to the event so they could claim huge discounts when those prices were slashed.
Merchants said Alibaba ensures discounts are genuine by having vendors discount their products from their lowest price within the 60 days before and after Singles' Day.
Though some vendors lament the pressure on their margins, Alibaba says the festival has grown from just 27 participating vendors in 2009 to 27,000 now.
"Sellers like this kind of big promotion because it increases our sales, but I would live more comfortably if it's a rational environment of competition," the former Tmall shop owner said.
"We would rather take money and use it for customer acquisition," the online store manager said.
He put it down to Alibaba's desire to please its new backers on Wall Street with figures to support the group's eye-popping market valuation of US$285 billion after its September IPO.
"Consumers love it: They are getting cheaper stuff, but just because [Alibaba] did the IPO, they want to have extraordinary results," he said.
Comments will be moderated. Keep comments relevant to the article. Remarks containing abusive and obscene language, personal attacks of any kind or promotion will be removed and the user banned. Final decision will be at the discretion of the Taipei Times.