Shanghai-HK exchange link to start on Monday
ACROSS BORDERS: The link will give foreign investors wider access to Chinese consumer firms, increasing use of the yuan and turning Shanghai into a financial hub
China said the Shanghai-Hong Kong exchange link would debut in a week, sparking equity rallies in both cities as the nation gives foreign investors unprecedented access to its US$4.2 trillion stock market.
The program allowing a net 23.5 billion yuan (US$3.8 billion) of daily cross-border purchases will begin on Monday next week, regulators said in a joint statement yesterday after weeks of investor speculation on the start date.
Benchmark indices in Shanghai and Hong Kong rose at least 0.8 percent, while Hong Kong Exchanges & Clearing Ltd surged 4.6 percent. The yuan strengthened as the central bank raised its reference rate by the most since 2010.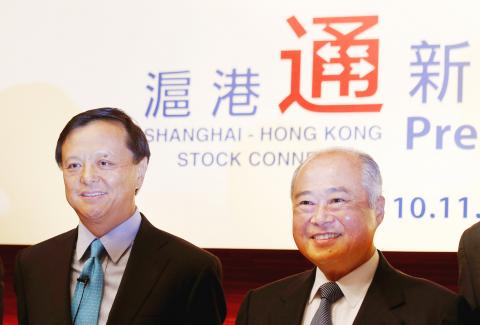 Hong Kong Exchanges and Clearing Ltd chief executive Charles Li, left, and chairmanChow Chung-kong pose during a news conference yesterday on the Shanghai-Hong Kong Stock Connect in Hong Kong.
Photo: Reuters
The exchange link is one of China's biggest steps toward opening up the capital account, increasing use of the yuan and turning Shanghai into an international financial center.
It will give foreign investors greater access to Chinese companies tied to the nation's consumer market, which Chinese President Xi Jinping (習近平) is counting on to reduce the dependence of the world's second-largest economy on exports and infrastructure spending.
"It's good to see a date," Mark Konyn, who helps oversee about US$92 billion as the chief executive officer of Cathay Conning Asset Management in Hong Kong. "It's a great innovation."
A Shenzhen equivalent of the Shanghai-Hong Kong link will probably follow within two years, giving foreign investors improved access to China's smaller exchange, according to Bank of America Corp and Templeton Emerging Markets Group.
The bourse connect will expand access to Chinese shares from a limited number of institutions to anyone with a Hong Kong brokerage account. The US$64 billion Qualified Foreign Institutional Investor program has allowed professional money managers to buy local securities since 2002, while a similar system using offshore yuan began in 2011.
Brokers had been preparing for the link to start at the end of last month, after regulators signaled in April that it would begin in six months. While officials have not commented on reasons for the delay, some investors had speculated authorities were waiting for an easing of pro-democracy protests in Hong Kong.
"The wait is over," said Ian Cohen, the Hong Kong-based chief operating officer for Asia equities at HSBC Holdings PLC. "This will mean a world of new opportunities for investors around the world and in China."
One question that still remains is whether China will levy a capital gains tax on international investors who buy mainland shares through the link. While the nation's laws suggest foreigners should pay a 10 percent levy, the government has never collected the tax, according to PricewaterhouseCoopers.
Chinese authorities are close to outlining taxation rules for the connect and will unveil them "within a very short time," Hong Kong Secretary for Financial Services and the Treasury K.C. Chan (陳家強) told reporters yesterday.
Hong Kong Exchanges & Clearing CEO Charles Li (李小加) said tax rules would be announced before the link begins.
Comments will be moderated. Keep comments relevant to the article. Remarks containing abusive and obscene language, personal attacks of any kind or promotion will be removed and the user banned. Final decision will be at the discretion of the Taipei Times.