China fines 12 Japanese parts suppliers
ANTI-MONOPOLY PROBE: The firms, which supply parts to the auto industry, were found guilty of price-fixing in a government probe into overseas auto companies
China announced yesterday it would fine 12 Japanese auto parts suppliers a total of US$202 million for colluding to raise prices in an unfolding anti-monopoly probe of the country's auto industry.
Beijing has launched a series of investigations into automakers and technology suppliers under its six-year-old anti-monopoly law, in an apparent effort to force down prices. Officials said earlier that Mercedes-Benz, Audi and Chrysler also violated the law.
The Japanese suppliers were found to have colluded improperly, some for up to 10 years, to raise prices of ball bearings and other parts, according to China's National Development and Reform Commission.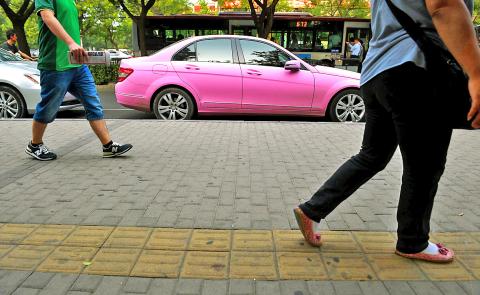 Pedestrians walk past a pink Mercedes-Benz C-class car parked beside a road in Beijing on Monday.
Photo: AFP
"This harmed the legitimate rights and interests of consumers," the commission said on its Web site.
PRICE COMPLAINTS
Regulators have given few details of the probe but industry analysts say they might have been motivated by complaints about the high price of imported luxury vehicles and replacement parts.
Two of the Japanese companies, ball bearing makers NSK Ltd and NTN Corp, announced on Tuesday they were among those being fined.
The others were components suppliers Hitachi Ltd, Denso Corp, Aisan Industry Co, Mitsubishi Electric Corp, Mitsuba Corp, Yazaki Corp and Furukawa Corp and bearings makers Nachi-Fujikoshi Corp and JTEKT Corp.
The commission said that the components makers were fined a total of 832 million yuan (US$136 million) and the bearings suppliers 403 million yuan, but it gave no breakdown by company.
COMPETITION LAW
The EU Chamber of Commerce in China, in a statement last week, said competition law should not be used to achieve other goals such as forcing price reductions.
The group said that it received reports regulators pressure companies to accept penalties without a full hearing and avoid involving their governments.
A Chinese Ministry of Commerce spokesman denied this week that foreign companies were treated unfairly.
On Monday, the government said Mercedes Benz was guilty of "vertical price-fixing." It said the unit of Germany's Daimler AG used its control over supplies of replacement parts to charge excessive prices.
Officials have said Volkswagen AG's Audi luxury unit and Fiat Chrysler Automobile NV's Chrysler would also face unspecified punishment for violating the law. Toyota Motor Co has said its Lexus unit is under scrutiny.
TECH FIRMS PROBED
Regulators also have announced investigations of Qualcomm Inc and Microsoft Corp.
Last year, Chinese regulators fined five foreign dairies and one from Hong Kong a total of US$108 million on charges they violated the anti-monopoly law by setting minimum prices for their distributors.
Comments will be moderated. Keep comments relevant to the article. Remarks containing abusive and obscene language, personal attacks of any kind or promotion will be removed and the user banned. Final decision will be at the discretion of the Taipei Times.