IMF cuts worldwide growth forecast
RISKY BUSINESS: The IMF downgraded its growth outlook to 3.4%, citing geopolitical risks, including unrest in the Middle East and Ukraine, and a sharp downturn in Russia
The IMF warned on Thursday that geopolitical risks in Ukraine and the Middle East are looming over a global economy already hit by slowdowns in the US and China.
After "negative surprises" from the US and China, the global economy is now expected to grow only 3.4 percent this year, the IMF said, lowering its April estimate of 3.7 percent.
Last year, the world economy grew 3.2 percent. The downgraded growth outlook for this year reflects a "weak first quarter, particularly in the US, and a less optimistic outlook for several emerging markets," the IMF said in an update of its half-yearly World Economic Outlook.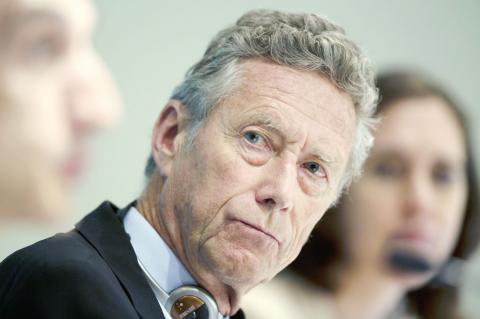 IMF chief economist Olivier Blanchard looks on at a news conference in Mexico City, on Thursday.
Photo: Bloomberg
"Geopolitical risks have risen relative to April: Risks of an oil price spike are higher due to recent developments in the Middle East while those related to Ukraine are still present," the update said.
Heavyweight oil producer Iraq is under siege from an Islamist offensive, and fierce fighting between Israel and Palestinians in Gaza has raged for more than two weeks.
The Ukraine crisis was exacerbated by the downing last week of Malaysia Airlines Flight MH17 over rebel-held territory in eastern Ukraine that killed all 298 people aboard.
Russia, the target of US and EU economic sanctions for its role in the fighting, was likely to see its economy brought to the brink of recession this year, the IMF said.
It slashed its Russian growth forecast by 1.1 percentage point, to 0.2 percent, saying "activity in Russia decelerated sharply as geopolitical tensions further weakened demand."
"If things got worse and the conflict escalated then anything having to do, for example, with gas supplies to western Europe, could have much larger effects but for the moment these effects are not there," IMF chief economist Olivier Blanchard said at a news conference.
Separately, IMF spokesman William Murray warned that US and EU sanctions could have a severe impact on trade in the region, "particularly in eastern and central Europe and central Asia."
Blanchard said that the Gaza conflict "doesn't seem to have large effects beyond the effects on Israel."
On Wednesday, the IMF lowered its forecast for US growth this year to 1.7 percent, from 2 percent in mid-June and 2.8 percent in April.
"It's really a story of something which has just happened and that is behind us," Blanchard said, in discussing the WEO update.
The IMF projected US growth would pick up during the remainder of the year, but not enough to offset the first-quarter drag.
As for China, the world's second-largest economy is set to expand less than previously thought, the IMF said on Thursday, lowering its forecast to 7.4 percent from 7.6 percent.
"In China, domestic demand moderated more than expected," it said.
The growth estimate for the eurozone, still struggling to recover from recession, was unchanged at 1.1 percent, and the IMF reiterated concern about weak inflation in the 18-nation bloc.
"In major advanced economies, there is a risk of stagnation in the medium term," the IMF warned, recommending that major advanced economies maintain "accommodative" monetary policies. Emerging-market economies would slow a bit more than previously estimated, to a 4.6 percent growth pace.
"Emerging market economies — particularly those with domestic weaknesses and external vulnerabilities — may face a sudden worsening of financial conditions and a reversal in capital flows in the event of a shift in financial market sentiment," the IMF said.
Despite the worse-than-expected global growth outlook for this year, the IMF left its forecast for next year unchanged at an annual rate of 4 percent, the fastest pace since 2011.
Comments will be moderated. Keep comments relevant to the article. Remarks containing abusive and obscene language, personal attacks of any kind or promotion will be removed and the user banned. Final decision will be at the discretion of the Taipei Times.