Mt. Gox faced 150,000 attacks per second, report says
NO PROBLEM: Although the bitcoin exchange crashed after massive cyberattacks, the volatile virtual currency continues to be used by technology orientated people
Bitcoin exchange Mt. Gox faced massive hacker offensives last month, coming under about 150,000 distributed denial-of-service (DDoS) attacks per second for several days ahead of its spectacular failure, a report said yesterday.
The Tokyo-based exchange, which filed for bankruptcy protection last month and admitted that it has lost half a billion dollars in the digital currency, has come under serious cyberattacks in particular since about Feb. 7, the Yomiuri Shimbun reported.
While Mt. Gox faced hacker attempts to steal bitcoins, the exchange also confronted massive DDoS attacks, crippling its systems, the newspaper said.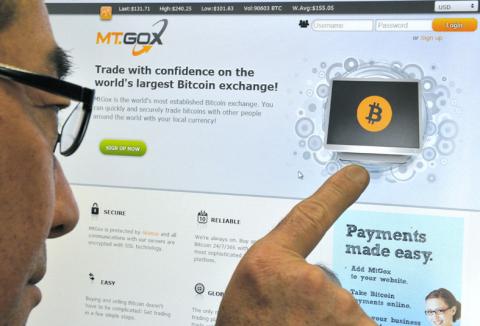 A man points at the bitcoin exchange Web site of Mt. Gox in Tokyo, Japan, on Feb. 25.
Photo: AFP
Under DDoS attacks, hackers hijack multiple computers to send a flood of data to the target, crippling its computer system.
The attacks on Mt. Gox lasted for several days and many bitcoins were stolen, the Yomiuri said.
Mt. Gox's lawyers said 750,000 bitcoins belonging to the firm's customers had gone missing, along with about 100,000 units that the company owned.
Even so, Britain's first machine for dispensing digital currency opened for business in a cafe near London's "Silicon roundabout" tech hub in east London on Friday, offering customers the ability to exchange bank notes for bitcoins.
Nick Letchford, managing director of the group that owns the Old Shoreditch Station cafe, decided to install the machine after noticing the popularity of bitcoins among his customers working nearby in the digital industries.
"It gets used regularly based on where we are located," he said. "There are lots of technology orientated consumers within our area and it caters very easily for them."
He sees a mainstream future for the virtual currency, even though the top bitcoin exchange has collapsed and the currency has been volatile due to speculation as well as prone to criminal activities.
The currency came into existence in 2009, with the value negotiated by individuals chatting on bitcoin forums. After trading for cents per bitcoin for the first two years of its existence, it began a frenzied climb in 2011 that took it to US$40 a coin in late 2012 and US$1,100 last year, before falling off to the current US$610 level.
Customers who use the machine in east London are charged an 8 percent commission.
Comments will be moderated. Keep comments relevant to the article. Remarks containing abusive and obscene language, personal attacks of any kind or promotion will be removed and the user banned. Final decision will be at the discretion of the Taipei Times.