Indonesia's rupiah leads currency losses in Asia
Indonesia's rupiah led losses in Asian currencies this week, as signs of improvement in the US economy boosted bets the Federal Reserve would trim stimulus, a policy that has driven demand for emerging-market assets.
The rupiah fell for a third week as overseas investors pulled a combined US$1.6 billion from stocks in Indonesia, Taiwan, the Philippines, South Korea and Thailand, exchange data show.
A deadly typhoon that hit the Philippines on Nov. 8 spurred the biggest five-day drop in the peso since August, while political unrest in Thailand weighed on the baht. Reports from the US this month showed economic growth and employment beat economists' estimates.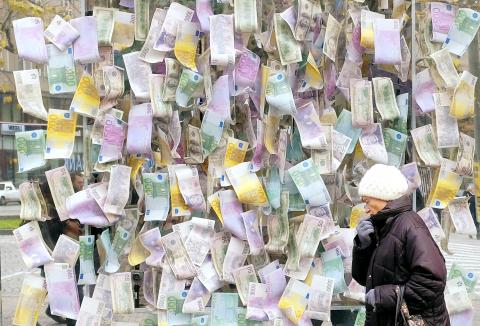 A woman passes by a casino window decorated with mock banknotes in Prague on Thursday.
Photo: Reuters
"The US economy seems to be recovering," said Tsutomu Soma, manager of the fixed-income business unit at Rakuten Securities Inc in Tokyo. "On the other hand, there was the typhoon in the Philippines and political concern in Thailand, which weighed on sentiment. All in all, the momentum is for a stronger dollar and weaker regional currencies."
Indonesia's currency dropped 1.8 percent this week to 11,620 per US dollar and reached 11,675 on Wednesday, the lowest level since Sept. 30, according to prices from local banks compiled by Bloomberg. India's rupee fell 1 percent to 63.12 per US dollar, the peso weakened 1.1 percent to 43.65 and Malaysia's ringgit slipped 0.7 percent to 3.2023.
INTERVENTION
The New Taiwan dollar also dropped 0.4 percent this week to NT$29.62, aided in part by central bank intervention, dealers said.
US Federal Reserve Vice Chair Janet Yellen, the nominee to replace Fed Chairman Ben Bernanke, said this week that the US economy still needs the stimulus to ensure a sustainable recovery.
The Fed will delay until March any cut to its US$85 billion of monthly bond purchases, according to the median estimate of 32 economists in a Bloomberg survey conducted on Nov. 8.
US manufacturing unexpectedly picked up last month, while US employers added 204,000 to payrolls, a figure that topped the most optimistic forecast in a Bloomberg survey of economists and followed a 163,000 increase in September, reports showed. The Bloomberg US Dollar Index dropped 0.5 percent this week, its first five-day loss since Oct. 25.
"Asian currencies are reacting to the payrolls data," said Sean Yokota, head of Asia strategy at Skandinaviska Enskilda Banken AB in Singapore.
Elsewhere in Asia, the Thai baht lost 0.4 percent this week to 31.590 against the greenback and South Korea's won rose 0.1 percent to 1,063.53, while China's yuan was little changed at 6.0925. Vietnam's dong was steady at 21,100.
YEN BREAKS 100
Japan's currency tumbled for a third week as it broke the ¥100 per US dollar mark for the first time since Sept. 11. The pound rallied to a four-year high versus the yen after the Bank of England signaled an interest-rate increase in the third quarter of 2015, rather than the second quarter of 2016. The greenback fell against the euro, wiping out last week's gain that followed better-than-forecast US employment data and an unexpected European Central Bank interest rate cut.
"You're still early in this dollar-rollover period," Jonathan Lewis, chief investment officer at Samson Capital Advisors LLC and manager of the Samson Strong Nations Currency Fund, said in a telephone interview from New York.
"It's fair to say that if the market took Yellen's perspective seriously, easier and aggressive for as long as it takes to get the job done, that the dollar would be rolling over more materially," Lewis said.
The Bloomberg US Dollar Index, which monitors the greenback against 10 major counterparts, fell 0.5 percent to 1,016.88 this week in New York. It touched 1,015.83, the lowest since Nov. 7, and 1,025.01, the highest since Sept. 13.
The yen fell 1.2 percent to ¥100.19 per dollar after depreciating to ¥100.44, the weakest level since Sept. 11. Japan's currency slid 0.5 percent to ¥135.21 per euro. The US dollar fell 1 percent to US$1.3496 per euro.
The pound climbed 1.8 percent this week to ¥161.49 and touched ¥161.65, the highest since August 2009. Sterling added 0.6 percent to US$1.6118 after reaching US$1.6135, the highest level since Oct. 29.
Additional reporting by staff writer
Comments will be moderated. Keep comments relevant to the article. Remarks containing abusive and obscene language, personal attacks of any kind or promotion will be removed and the user banned. Final decision will be at the discretion of the Taipei Times.