Microsoft Corp to partner with 3D printer makers
Microsoft Corp yesterday said it plans to collaborate with 3D printer makers, including Taiwan's New Kinpo Group (新金寶集團), to explore 3D printing market with its Windows 8.1 mobile operating system.
"Given the 3D printing market has huge growth potential but remains underdeveloped, we think it is advantageous for Microsoft to enter this battlefield and hold a share as soon as possible," Microsoft Taiwan Corp's marketing and operations general manager Roan Kang (康容) said.
Kang said Microsoft's embedded application installed on Windows 8.1 platform can read nearly every kind of document format, offers a wider selection of colors and processes printing works more quickly than existing software programs do.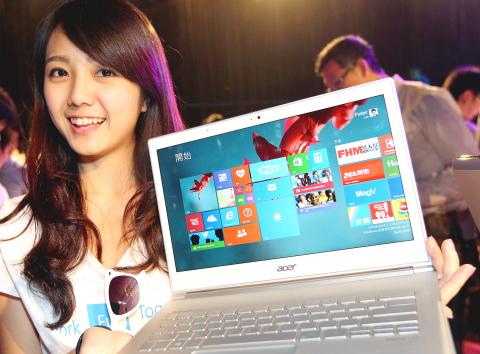 A model holds up a laptop installed with the latest Microsoft OS update, Windows 8.1, at the Taipei launch yesterday evening.
Photo: CNA
"Microsoft may collaborate with the world's top three 3D printer makers [3D Systems Corp, Stratasys Ltd and ExOne Co] to expand its share in the 3D printing market, while strengthening its foothold in the mobile device market," Kang told reporters after an event to announce the Windows 8.1 launch in Taipei.
New Kinpo in August introduced its 3D printers, priced as low as at NT$15,000 (US$510.81), and vowed to ship 1 million units of its low-priced 3D models in three years.
Asked by reporters if the company will seek collaboration with New Kinpo, Kang said: "Microsoft of course will not miss any opportunity working with talent, including those from Taiwan."
New Kinpo yesterday declined to answer if Microsoft has contacted the company about the collaboration. A company official said by telephone that New Kinpo would have to get more familiar with Windows 8.1 before carrying out any new business project.
Due to a lack of applications by developers, Microsoft's Windows 8 operating system introduced last year failed to boost global PC shipments.
In a report released on Aug. 29, the International Data Corp revised downward its forecast for global PC shipments this year to a 9.7 percent decline, lower than its earlier estimates of a 7.8 percent and 1.3 percent contraction in May and March respectively.
"We know there are ample opportunities ahead, but we still need to speed up to catch them," Microsoft Taiwan general manager Davis Tsai (蔡恩全) told reporters at the same event.
Tsai said Microsoft had made strong efforts to establish a sales force and redesign its new platform after receiving feedback from customers over the past 12 months.
Currently, the Windows app store has generated more than 120,000 applications for up to 3,000 different tablet, laptop or desktop models to access.
Asked whether Microsoft would continue selling its Windows RT operating system — a variant of the Windows 8 operating system designed for mobile devices equipped with ARM Holdings PLC's chips and processors — Tsai said "Microsoft will continue its works for the Windows RT platform because ARM's architecture remains
important to the company."
In addition to the upgrade for the Windows 8 platform, Microsoft yesterday also provided a free version of its Office Outlook software for Windows RT operating system users to check their daily schedules on the go, Tsai said.
Comments will be moderated. Keep comments relevant to the article. Remarks containing abusive and obscene language, personal attacks of any kind or promotion will be removed and the user banned. Final decision will be at the discretion of the Taipei Times.