Consumer confidence rises as uncertainty eases
The consumer confidence index (CCI) this month rebounded from last month, mainly on the back of an improving outlook for the nation's securities market and housing market, a National Central University survey showed yesterday.
The index stood at 76.5 this month, down 1.17 points from a month earlier, the university's Research Center for Taiwan Economic Development survey showed.
The index gauges public expectations for the local stock market's performance, household finances, durable goods, job opportunities, consumer prices and the economic outlook for the next six months.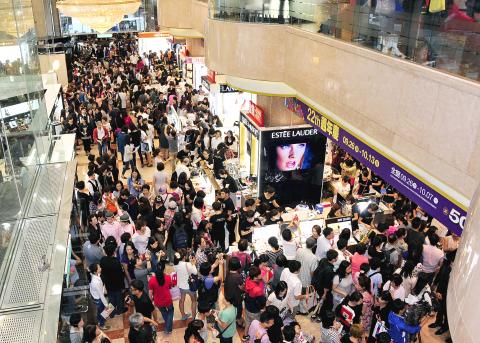 Customers fill Shinkong Mitsukoshi's department store in Taipei on Thursday, attracted by the store's anniversary sale, which ends on Oct. 13.
Photo: Pan Shao-tang, Taipei Times
The survey — which polled 2,424 people over the age of 20 from Thursday to Sunday last week — showed that while concerns over the nation's economic outlook have increased, uncertainty in five other areas eased, the center said in its monthly report.
The stock market sub-index led the rise among the six sectors this month, increasing by 4 points to 63.4, as the public's confidence in the securities market varied according to different global news and showed the largest volatility, the report said.
Yet notably, the sub-index of durable goods rose by 2.4 points from a month earlier to 99.05 points last month, marking the largest increase among the six sectors — the highest level since October 2011 — indicating that property remains an attractive investment target, the report said.
"Generally, a political war may cause a nation's real-estate market to tumble, but what we have here is a sub-index of durable goods that has nearly reached the level of absolute optimism," center director Dachrahn Wu (吳大任) told a press conference.
The sub-indices of job opportunities and household finances surged to 106.15 and 72.35 this month respectively, both up 0.45 points from a month earlier, followed by the sub-index of consumer prices, which increased slightly by 0.1 points 47.05 this month from last month, the data showed.
In contrast, the economic outlook sub-index decreased by 0.35 points month-on-month to 71 this month, the report's statistics showed.
Rising sentiment among consumers also lifted sales at several department stores, which started their anniversary sales this week to take advantage of the public's increased consumption appetite.
Far Eastern Department Store (遠東百貨), which operates 10 department stores and Taipei Metro's The Mall (遠企購物中心), said sales at its Greater Taichung outlet hit NT$400 million (US$13.49 million) on Thursday — its first day of annual sales event, while Shin Kong Mitsukoshi Department Store Co (新光三越百貨) said its Taipei branch on Nanjing W Road also achieved sales of NT$440 million on Thursday.
Comments will be moderated. Keep comments relevant to the article. Remarks containing abusive and obscene language, personal attacks of any kind or promotion will be removed and the user banned. Final decision will be at the discretion of the Taipei Times.