Cyprus banking on tax breaks, casinos to restart economy
Cyprus plans to lift a ban on casinos and offer firms tax exemptions on profits reinvested on the island under a package of reforms to kickstart its ailing economy, Cypriot President Nicos Anastasiades said on Monday.
The country's EU partners agreed on a 10 billion euro (US$12.8 billion US$12.8 billion) rescue package on Monday last week after tense negotiations showed that the currency union's crisis is far from over.
The tough terms of the deal look set to deepen the island's recession, shrink its banking sector and lead to thousands of job losses, while the capital controls to prevent a run on Cypriot banks may test the ties that bind the euro bloc together.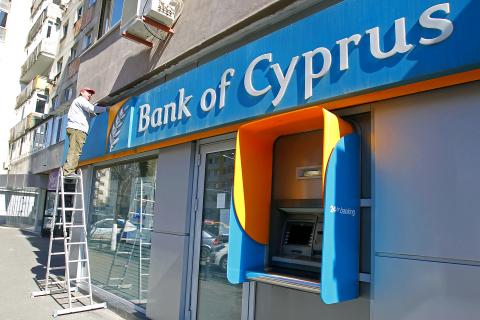 A man paints near a Bank of Cyprus branch in Bucharest, Romania, on Monday.
Photo: Reuters
Anastasiades, who briefed ministers on the economy at an informal meeting on Monday, said the 12-point growth plan would be put to the Cypriot Cabinet for approval within the next 15 days.
The program includes measures to attract foreign investment to the island — a hub for offshore finance — as well as tax exemptions on business profits reinvested there, and the easing of payment terms and interest rates on loans.
In a bid to attract more tourists to the south of the island, Nicosia also hopes to lift a ban on casinos, which only operate legally in Turkish-controlled northern Cyprus.
Cyprus' bailout is the first to impose losses on depositors. Those with more than 100,000 euros in Bank of Cyprus accounts are to lose about 60 percent of their savings.
Asked to predict the depth of the recession, Cypriot government spokesman Christos Stylianides said: "It's not possible at this time to put numbers on the recession."
"The government, having inherited an atomic bomb, tried to deactivate it and in doing so spared this country from total bankruptcy. It is now dealing with a post-earthquake period with the aim to kickstart the economy," he added.
Comments will be moderated. Keep comments relevant to the article. Remarks containing abusive and obscene language, personal attacks of any kind or promotion will be removed and the user banned. Final decision will be at the discretion of the Taipei Times.