Casino developer offers US$2.5bn for infrastructure
GAMBLING IN MATSU: Weidner Resorts' CEO said the money can be used to upgrade the island's airport and to build a bridge, ferry harbor and yacht terminal
An international developer bidding to build a casino resort on Matsu yesterday said it has budgeted US$2.5 billion to construct supporting infrastructure.
This will remove the biggest obstacle facing Matsu's development: a lack of transportation infrastructure, Weidner Resorts chairman and CEO William Weidner said.
The money would be used mainly to upgrade Beigan Airport so that it can handle larger aircraft such as Airbus SAS' A320s and Boeing Co's 747s, Weidner said.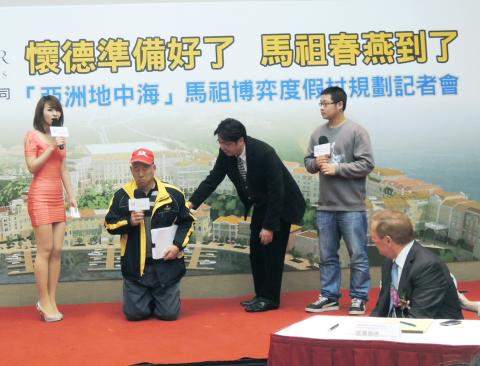 Wang Chang-ming, a village warden in Matsu's Beigan Township, kneels during a press conference in Taipei yesterday to urge the legislature to pass a gaming law. The event was held by Weidner Resorts, which is promoting a casino development project on Matsu.
Photo: Tsai Wei-chi, Taipei Times
A bridge connecting the Matsu chain's Beigan and Nangan islands, a ferry harbor and a yacht terminal would also be built, he said.
"[The project] will develop Matsu's infrastructure and help connect it to the rest of the world," Weidner said.
He said that the US$2.5 billion, which is part of the US$8 billion in funds for the entire project, came from Bank of America, Deutsche Bank, JPMorgan and Credit Suisse.
Weidner said the resort could generate 70,000 job opportunities.
Matsu County residents approved a referendum in July last year allowing casinos to be built on the island chain.
However, such projects cannot proceed until a bill governing the operation of casinos is passed by the legislature.
The Cabinet is currently working on drafting legislation toward that end.
Comments will be moderated. Keep comments relevant to the article. Remarks containing abusive and obscene language, personal attacks of any kind or promotion will be removed and the user banned. Final decision will be at the discretion of the Taipei Times.