HTC launches new flagship smartphone
BIG IN JAPAN: Jack Tong of HTC's Northern Asia office said demand for the smartphone in Japan exceeded the firm's forecasts and HTC is pushing for higher shipments targets
Taiwanese smartphone vendor HTC Corp (宏達電) yesterday launched a new flagship smartphone model, the HTC Butterfly, hoping the upgraded version of its J smartphone could help it regain a greater share of the market dominated by Apple Inc and Samsung Electronics Co.
Known as the HTC J Butterfly in Japan, the HTC Butterfly is an international version and a variant of Droid DNA.
"The Japanese market delivered good news to us that our products [the HTC J and its successor the J Butterfly] are in high demand," HTC chief executive officer Peter Chou (周永明) told reporters at a product launch event.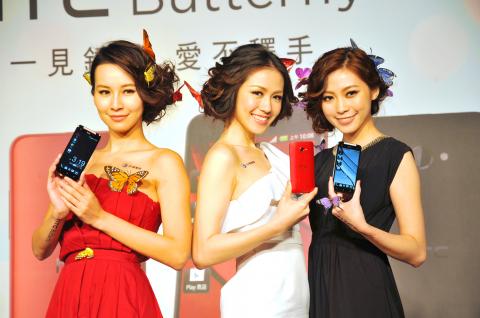 Models display HTC Butterfly smartphones at a product preview in Taipei yesterday. The phone will be available in Taiwan from the middle of this month.
Photo: Li Chiu-ming, Taipei Times
"High sales of the products proved that our strategies are correct and satisfy customers' expectations," he added.
Chou said he is personally very satisfied by Butterfly's slim design, and that many people agree that the new model is "the best smartphone so far in the world."
The model features a touchscreen and an 8 million pixel rear camera. It is powered by a 1.5 Gigahertz dual core CPU and equipped with a 5-inch 1,080-pixel high-definition LCD display. It weighs 140 grams, is water resistant and has a Beats Audio sound system.
Jack Tong (董俊良), president at HTC's Northern Asia office, said the company is trying to supply extra units of the HTC J to meet strong market demand in Japan.
"Demand for the HTC J series is better than forecast in Japan. Every day our products are 'sold out immediately' once they hit the shelves, pushing us to set higher shipment targets to cover the shortage," he said.
The HTC Butterfly is a "new milestone" for the company, he added.
Asked if HTC's product cycle is too short compared with that of Apple's iPhone, Tong said that because HTC is still a young company, it constantly tries to refresh consumers' perception toward the brand by upgrading its products frequently.
"Our goal is to integrate high-end technologies within one smartphone model, and the HTC One X+ and J Butterfly are the best examples," Tong said, adding that further integration of the One series and the J series might next year become the company's ultimate flagship product.
Jeff Pu (蒲得宇), an equity research analyst at Taipei-based Fubon Securities (富邦證券), forecast HTC's shipments in the first quarter of next year would increase by 18.57 percent to 8.3 million units from 7 million units this quarter, with a target price of NT$310.
Pu said HTC still needs to develop products fitted with long-term evolution (LTE) technology, which is better for the wireless transmission of high-speed data on mobile devices.
In addition, the company must develop more mid and low-end models to increase market share in emerging markets and upgrade high-end models to regain high-end smartphone market share, he said.
HTC said the company will begin shipping the first HTC Butterflys early next week with a price tag of NT$22,900 (US$788) per unit without a contract.
Consumers could also pay a monthly subscription fee of NT$2,443 to own the phone at a minimal monthly cost of NT$990, under a two-year contract with Chunghwa Telecom Co (中華電信), while both Taiwan Mobile Co (台灣大哥大) and Far EasTone Telecommunications Co (遠傳電信) are expected to begin selling the product by the end of next month, the company said.
HTC's shares closed down 2.34 percent at NT$271.5 in Taipei trading yesterday, underperforming the broader market, which gained 0.06 percent.
Comments will be moderated. Keep comments relevant to the article. Remarks containing abusive and obscene language, personal attacks of any kind or promotion will be removed and the user banned. Final decision will be at the discretion of the Taipei Times.