Windows Phone to catch up in apps, Microsoft says
Microsoft launched a new version of its Windows Phone software, with broad support from smartphone makers, cellphone carriers and app developers as the software company tries to position new Windows gadgets as strong alternatives to Apple and Android devices.
The company also promised to address one of the chief shortcomings with Windows Phone: the dearth of third-party applications, relative to offerings for Apple's iPhone and devices running Google's Android system.
Windows Phone 8 is the successor to Windows Phone 7, which was launched two years ago, but has had little traction in the market. The new software will run on more powerful smartphones, with flagship models coming from Nokia, Samsung and HTC (宏達電). Together, they will launch eight Windows Phone 8 smartphones before the year is out, starting this weekend overseas and later next month in the US.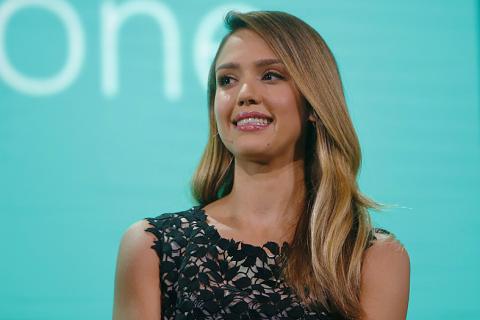 US actress Jessica Alba speaks on stage during the Microsoft Windows Phone 8 event at Bill Graham Civic Auditorium in San Francisco, California, on Monday.
Photo: AFP
"People all over the world are about to fall in love with Windows Phones," Microsoft CEO Steve Ballmer said at the Windows Phone 8 launch event in San Francisco on Monday.
Microsoft said it would also catch up in offering third-party apps. There are 120,000 applications available for Windows Phone, but some apps that are popular on other systems are notably missing from Windows Phone because it can be hard to get developers interested in writing programs for a small number of smartphones.
Microsoft is patching some of those holes soon: Microsoft vice president Joe Belfiore said Internet radio service Pandora was coming to Windows Phone 8, along with games such as Where's My Water?
Soon, he said, 46 of the 50 most-popular smartphone apps will be available.
The company is also releasing an app for Skype, the Internet calling service it owns. The Skype app available for Windows Phone 7 was an unfinished, or "beta" version. The new Skype app will run in the background, listening for incoming calls without placing any drain on the battery, Belfiore said.
Microsoft scored a big endorsement from Verizon Wireless, the largest cellphone carrier in the US. It will carry three Windows Phones this holiday season, including its first Nokia smartphone in many years. No. 2 AT&T Inc and No. 4 T-Mobile USA will also carry Windows Phones from Nokia and HTC, leaving only No. 3 Sprint Nextel Corp out.
Google is also cramming a few more gadgets on to already crowded holiday shopping lists.
The devices announced on Monday include the latest in Google's line of Nexus smartphones and a larger version of the 7-inch (17.78cm) Nexus 7 tablet, which the company began selling in July. It is also adding cellular capabilities to the Nexus 7 and doubling the capacity of existing models.
The Nexus 4 smartphone is being made by LG Electronics and features a minor update to Google's Android operating system, which now powers more than 500 million devices worldwide. A more comprehensive makeover, known as Key Lime Pie, is expected next year. The version of Android affected by these changes is known as Jelly Bean.
The larger Nexus tablet is being made by Samsung Electronics and features a display screen that measures about 10 inches diagonally, about the same size as Apple's top-selling iPad.
Comments will be moderated. Keep comments relevant to the article. Remarks containing abusive and obscene language, personal attacks of any kind or promotion will be removed and the user banned. Final decision will be at the discretion of the Taipei Times.