S&P also cuts Spain's credit rating
Standard & Poor's cut Spain's credit rating yesterday, sending the euro lower and underlining the challenges facing Europe's big powers as they prepare to meet G20 counterparts over the eurozone debt crisis.
S&P, whose move mirrored that by fellow ratings agency Fitch last week, cited high unemployment, tightening credit and high private sector debt among reasons for cutting the nation's long-term rating to "AA-" from "AA."
At above 21 percent, Spanish unemployment is the highest in the EU, reflecting a stagnant economy, the collapse of a decade-long housing boom and cuts aimed at reeling in a public sector deficit that reached 11.1 percent of GDP in 2009.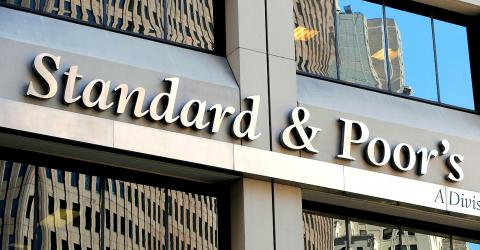 The offices of Standard and Poor's, which has cut Spain's long-term credit rating by one notch, are pictured in New York on April 28 last year.
Photo: EPA
High yields on Spanish government bonds point to concerns that it could be the next eurozone economy to need bailing out after Greece, Ireland and Portugal, although an unpopular austerity program has gone some way to convincing investors that its deficit will fall to 6 percent of GDP this year as promised.
S&P announced the downgrade as finance ministers and central bank chiefs from the world's 20 biggest economies were due to meet later yesterday in Paris amid pressure to find an urgent and convincing solution to the deepening debt crisis.
"Despite signs of resilience in economic performance during 2011, we see heightened risks to Spain's growth prospects due to high unemployment, tighter financial conditions, the still high level of private sector debt, and the likely economic slowdown in Spain's main trading partners," S&P said.
It also noted the "incomplete state" of labor market reform and the likelihood of further asset deterioration for Spain's banks, and downgraded its forecast for Spanish economic growth next year to about 1 percent.
In February, S&P had forecast 1.5 percent growth for next year.
Like Fitch, which also now rates Spain at "AA-," S&P signaled further possible downgrades for Spain, saying there was still a risk that the eurozone's fourth-largest economy could slip into recession next year, with a 0.5 percent contraction.
"We could lower the ratings again if, consistent with our downside scenario, the economy contracts in 2012, Spain's fiscal position significantly deviates from the government's budgetary targets, or additional labor market and other growth-enhancing reforms are delayed," S&P said.
The euro dipped in Asian trade after the downgrade, though it still remained on track for its biggest weekly rally since January. It last traded at US$1.3753, having shed around a third of cent.
Comments will be moderated. Keep comments relevant to the article. Remarks containing abusive and obscene language, personal attacks of any kind or promotion will be removed and the user banned. Final decision will be at the discretion of the Taipei Times.