Amazon profits weighed down
Amazon.com Inc on Tuesday reported that its profits slipped as revenues jumped on hot sales of Kindle electronic readers subsidized by advertising.
Amazon's profits were weighed down by expenses related to beefing up the company's operations and developing new products.
Amazon said revenues in the recently ended quarter jumped 51 percent to US$9.91 billion, but net profit fell 8 percent to US$191 million in comparison with results logged in the same period last year.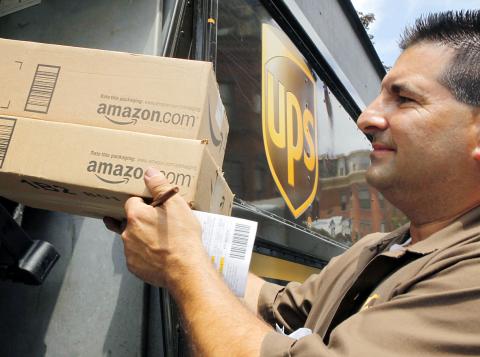 UPS driver T.J. Dellasala delivers two packages from Amazon.com in Boston, Massachusetts, on Tuesday. Amazon.com Inc reported a surge in quarterly revenue while profit slipped as the largest Internet retailer benefited from growth in e-commerce, but kept spending on distribution, technology and digital content.
Photo: Reuters
"Low prices, expanding selection, fast delivery and innovation are driving the fastest growth we've seen in over a decade," Amazon founder Jeff Bezos said in a release.
He said that the Kindle 3G with special offers priced at US$139 has become the Seattle-based online retailer's top selling e-reader since being released two weeks ago.
The cut-price version of Amazon's Kindle 3G electronic reader is sponsored by US telecoms carrier AT&T Inc. The same e-reader without on-screen ads is priced at US$189.
In May, Amazon began selling Wi-Fi-only Kindles featuring advertising and discounted prices. The AT&T version lets users download books wherever there is mobile telephone coverage.
The company has declined to comment on recent reports that it plans to unveil a tablet computer by the end of the year in a bid to carve out a slice of a growing market dominated by Apple Inc's iPad. Amazon is also rumored to be poised to release new Kindle models.
"We will not talk about what we might or might not do," Amazon chief financial officer Tom Szkutak said when asked about tablet -computer plans in an earnings -conference call. He said the company has been investing heavily to support its tremendous growth.
Amazon added about 5,300 workers in the quarter and has ramped up the number of warehouses it is adding to its retail network, according to Szkutak.
Amazon is also investing in China where the business is growing fast.
"We are very pleased with our business in China," Szkutak said. "We are in investment mode in that country. It is a very -interesting long-term opportunity."
Amazon projected that sales in the current quarter would tally between US$10.3 billion and US$11.1 billion in results that would top the same quarter last year by 36 percent to 47 percent.
Amazon's earnings bested Walls Street expectations and the company's stock price rose more than 6 percent to US$227.80 in after-hours trading that followed release of the results.
Comments will be moderated. Keep comments relevant to the article. Remarks containing abusive and obscene language, personal attacks of any kind or promotion will be removed and the user banned. Final decision will be at the discretion of the Taipei Times.