CEPD road shows aim to lure foreign money
Taiwan is hoping to lure investments of more than NT$430 billion (US$13.4 billion) from investors at home and abroad for its 10 flagship projects, Council for Economic Planning and Development (CEPD) Minister Christina Liu (劉憶如) said yesterday.
The 10 flagship projects — which include biotech and medical travel, the cultural and creative industries, cloud computing and WiMAX, green energy and intelligent green buildings — aim to attract capital to boost Taiwan's competitiveness with the hope of carving a global niche in the select industries, she said.
The remaining projects consist of the globalization of Taiwanese cuisine, smart handheld devices, smart electric vehicles, urban renewal, the Taoyuan Aerotropolis, and Central Taiwan's high-tech cluster.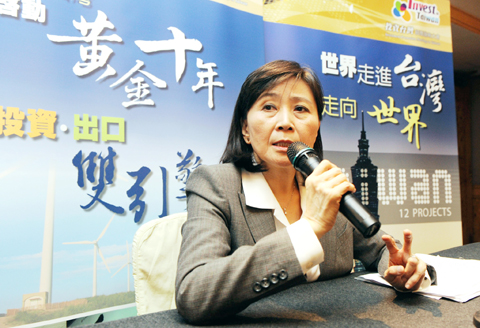 Council for Economic Planning and Development Minister Christina Liu yesterday praises Taiwan's high economic growth in the first half of the year during a press conference at the Grand Hyatt Taipei. Liu called on all sectors of society to invest in Taiwan.
PHOTO: CNA
"We can't be overly dependent on technology exports, since services industries are the next growth engines," Liu told reporters on the first leg of the "Invest in Taiwan" investment road show.
"These flagship projects could bring in overseas know-how, which would help upgrade Taiwan industries," she said.
The "Invest in Taiwan" road show was initiated by the Executive Yuan and led by the council, along with the Ministry of Economic Affairs.
Yesterday's road show drew 915 participants from 500 businesses and associations. Of that, 141 participants were from abroad.
After the Taipei leg, the road show will travel to Taichung on Friday, Kaohsiung on Monday, Hualien on Sept. 3 and Taitung on Sept. 7.
Representatives from various ministries will give briefings on the flagship projects and take questions from potential investors.
"With these road shows, we are relaying the message to the world that we welcome investments in the flagship projects, and now is the best time to work with Taiwan," Liu said, adding that the government would take the road show abroad in the near term.
With the Economic Cooperation Framework Agreement (ECFA) expected to take effect next month, the return flow of capital from overseas Taiwanese businesses and a more favorable taxation system, Taiwan is strongly positioned to lure investments, the council said.
Taiwan is aggressively reaching out for foreign investors because foreign investment numbers have been heading south in recent years.
After reporting elevated foreign investments totaling at US$13.9 billion in 2006 and US$15.4 billion in 2007, Taiwan saw foreign investments dip to US$8.2 billion in 2008 and US$4.8 billion last year, statistics from the Investment Commission showed.
Taiwan only attracted US$2.5 billion in overseas investment in the first seven months this year.
Comments will be moderated. Keep comments relevant to the article. Remarks containing abusive and obscene language, personal attacks of any kind or promotion will be removed and the user banned. Final decision will be at the discretion of the Taipei Times.