Fair to showcase latest tech trends
THE JOYS OF SPRING Samsung, which normally skips the Spring Computer Fair, will be attending, while companies such as HTC Corp will have more booths
The Spring Computer Fair, which is opening its doors to the public next Thursday, promises consumers a sneak peek into the latest technology trends, with improved ultra-low-voltage (ULV) notebooks, electronic readers, smartphones and 3D gadgets taking center stage.
"Consumers can drop by the fair not just to make purchases, but also to embark on a journey into the tech world," Enoch Du (杜全昌), secretary-general of the Taipei Computer Association (TCA, 台北市電腦公會), told reporters. "They could get a preview of the trend to come this year."
On the back of a recovering economy, 150 companies occupying 820 booths will take part in this year's fair. This is up from last year's 120 companies and 720 booths, TCA said.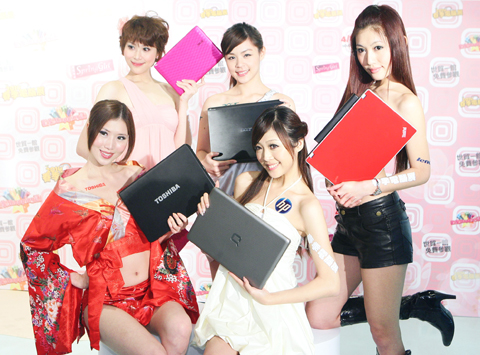 Models pose with computers from different manufacturers at a press conference to promote the 2010 Softex Computer Show, a trade show catering to consumers and featuring the latest hardware and software offerings. Softex opens at the Taipei World Trade Center on Thursday and runs through April 12.
PHOTO: HU SHUN-HSIANG, TAIPEI TIMES
Consumers started to loosen their purse strings in last year's "IT Month" — the nation's largest consumer tech fair, which takes place at the end of every year — and this boosted vendors' confidence in participating in this year's Spring Computer Fair, it said.
Samsung Electronics Co, which normally skips the spring exhibition in favor of the IT Month fair, will exhibit its wares next week, while companies such as HTC Corp (宏達電) are taking up more booths to showcase more products, the association said.
The exhibition this year focuses on two themes: e-books and smartphones.
Newcomers in the e-reader arena, such as Book11.com (拾一本數位文化), Greenbook (綠林資訊) and Innoversal (宇創數位科技), will display their latest models for consumers to get a taste of digital reading.
Digital content provider Book11.com, whose online database went live early this year, will showcase an e-reader from a Dutch manufacturer.
Book11.com marketing manager Lin Yi-ling (林奕伶) said the model, which it is distributing in Taiwan, is an attractive buy with its 8-inch screen, despite a price tag of NT$19,900 (US$603). Rival BenQ Corp (明基) has a 6-inch e-reader that retails for NT$8,000-plus.
Lin said Book11.com's digital content could be downloaded for either PCs or e-readers. The company is also working on allowing smartphone download in the second half of the year.
ULV notebooks are staging a comeback with the promise of enhanced efficiency and longer-lasting battery life of up to eight hours.
"Users grumbled about the efficiency of ULV notebooks when they were launched last year. Some of the operations compromises were made to make way for longer battery life," said Scott Lin (林顯郎), Acer president for Taiwan operations, at a product launch on Tuesday.
However, with Intel Corp's new Calpella platform, Acer's latest models would be able to satisfy users' demand for functionality and battery life, he said.
The Spring Computer Show will end on April 12. Admission is free.
Comments will be moderated. Keep comments relevant to the article. Remarks containing abusive and obscene language, personal attacks of any kind or promotion will be removed and the user banned. Final decision will be at the discretion of the Taipei Times.