Shipments of LCD panels climbed 26% last month
LEADER Global shipments of TV panels grew fastest, rising to 14.84 million units on the back of holiday shopping in China and other markets, WitsView said
Global shipments of flat panels for TVs and computers grew for the eighth consecutive month last month, boosted by robust TV demand during the holiday shopping season in China, a local research house said yesterday.
Overall, shipments of liquid-crystal-display (LCD) panels rose 26 percent year-on-year, or 2.1 percent month-on-month, to 49.59 million units, statistics compiled by WitsView Technology Corp showed.
But the market researcher said the momentum was on the decline, as rising panel prices have left little leeway for PC and TV makers to trim prices to stimulate demand further.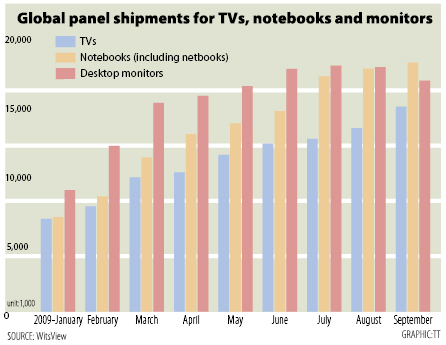 That could trigger a drop in panel shipments and panel prices later this year if panel makers retain their equipment loading rate at current levels, WitsView said.
Last month, global shipments of TV panels grew the fastest, rising nearly 12 percent month-on-month to 14.84 million units on the back of holiday shopping in China and other markets, WitsView said.
Shipments of notebook panels inched up 2.5 percent last month from August as PC makers prepared for replacement demand linked to the launch of Microsoft Corp's Windows 7 operating system, the report said.
Monitor demand showed some weakness for the second straight month last month, which caused prices LCD panels used in PC monitors to start dropping earlier than expected, the research house said.
In the third quarter, global PC and TV panel makers shipped 145.52 million units, WitsView said, setting an all-time high. The nation's two largest LCD panel suppliers, AU Optronics Corp (AUO, 友達光電) and Chi Mei Optoelectronics Corp (奇美電子) set new company records.
Shares of flat panel makers were among the most active stocks on the local bourse yesterday. AUO and Chi Mei rallied 1.86 percent and 4.22 percent respectively to NT$32.85 and NT$17.3. The two companies are expected to return to profit in the third quarter.
The benchmark TAIEX index edged lower by 0.04 percent yesterday.
Comments will be moderated. Keep comments relevant to the article. Remarks containing abusive and obscene language, personal attacks of any kind or promotion will be removed and the user banned. Final decision will be at the discretion of the Taipei Times.