Taiwanese tanker collides with ship
A loaded Taiwanese oil tanker carrying 58,000 tonnes of naphtha was involved in a collision with a cargo ship late on Tuesday in the Strait of Malacca bordering Malaysia and Indonesia, leaving nine crewmen from the oil vessel missing, a Malaysian maritime official said.
Oil traders said yesterday the Cargill-chartered tanker, Formosaproduct Brick (立善輪), was shipping the naphtha cargo from the United Arab Emirates through the strait between Malaysia and Indonesia to Daesan and Yosu in South Korea.
The origin of the naphtha was likely Abu Dhabi National Oil Co (ADNOC), with whom US trading firm Cargill Inc has a term contract to lift around 100,000 tonnes for an unspecified period, traders added.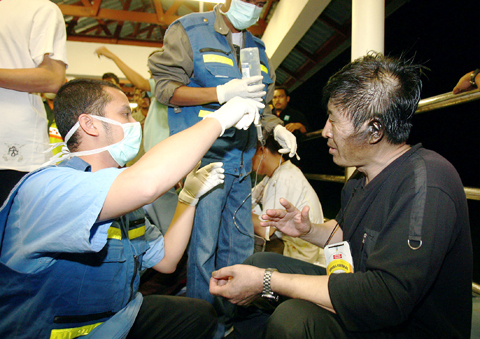 The captain of a Taiwanese oil tanker, Jian Han-cheng, right, receives medical attention at Port Dickson, 50km south of Kuala Lumpur, yesterday after he and 15 members of his crew were rescued from their vessel following a collision at sea. The loaded Taiwanese oil tanker was on fire and nine crew members were missing after a collision with a Greek-managed bulk carrier in the Strait of Malacca, Malaysian police said.
PHOTO: AFP
An official from the Malaysian Maritime Enforcement Agency (MMEA) said there was no danger of an oil spill from the Liberian-registered tanker with 25 crew, which was on fire hours after the collision with the Ostende Max, a British-registered bulk carrier. Sixteen of the crewmembers were picked up by a passing cargo ship.
A Reuters cameraman near the scene said the fire appeared to have been put out and the tanker did not seem to be listing or at risk of sinking.
Traders said the naphtha was to be supplied to South Korean end users — Honam ­Petrochemical, LG Chem and Yeochun Naphtha Cracking Center (YNCC).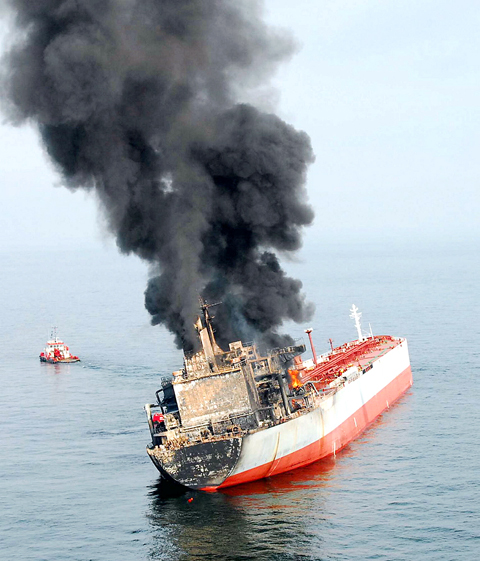 A Malaysian firefighting vessel sprays water on the MT Formosaproduct Brick yesterday near Port Dickson, Malayasia, after it collided with another vessel.
PHOTO: AFP
"The barrels were meant to arrive in South Korea in second-half of August, but I doubt there will be any major impact. Inventory is not that low [in South Korea]," said a Northeast Asian trader. "Additionally, there are still some September cargoes that traders had not sold."
The Formosaproduct Brick is registered to Formosa Alpine Marine Corp in Liberia, with Formosa Plastics Marine Corp (台塑海運) serving as a technical operator, according to information posted on the Taiwanese firm's Web site.
The double-hull vessel, a design meant to prevent oil leaks or flooding beyond the outer compartment, was built by Japan's Universal Shipbuilding Corp in 2001 and delivered to Formosa Plastics Marine in 2005, the Web site data showed.
Formosa Plastics Group (台塑集團), parent of Formosa Plastics Marine and Formosa Alpine Marine, said yesterday that the incident would not affect operations at its oil-refining unit Formosa Petrochemical Corp (台塑石化), because they do not own the cargo.
The collision occurred at 10pm in international waters in the Straits of Malacca Straits, the MMEA official said.
"We have towed the tanker to the edge of international shipping lines 18 nautical miles [33km] offshore from Port Dickson [in Malaysia] and alerted all ­vessels in the area, so there is no ­disruption or delays to shipping in the Straits," the official said.
An MMEA spokeswoman later said the cargo ship was empty when it sailed from Port Dickson for Singapore at the time of the collision and the slightly damaged bulk carrier has been directed to return to the west coast Malaysian port for investigations.
There was still no sign of the missing crewmen, she added.
additional reporting by staff writer
Comments will be moderated. Keep comments relevant to the article. Remarks containing abusive and obscene language, personal attacks of any kind or promotion will be removed and the user banned. Final decision will be at the discretion of the Taipei Times.