Acer ready to load Green Dam software on its PCs
Acer Inc (宏碁), the world's third-largest PC maker, will comply with a Chinese government order for all computers sold in the country to include anti-pornography software, spokesman Henry Wang (汪島雄) said.
"The company has noted the regulations and we will meet them," Wang said by phone yesterday.
He declined to say if the Taipei-based company had already installed the "Green Dam-Youth Escort" software on its products in China.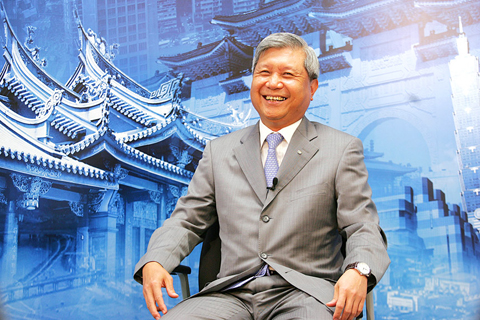 Acer Inc chairman J.T. Wang smiles during an interview in Taipei on April 14. Acer Inc said yesterday that it would comply with a Chinese government order for all computers sold in the country to include anti-pornography software, a requirement that was later postponed according to China's Xinhua news agencies.
PHOTO: BLOOMBERG NEWS
All personal computers sold in China from today were to have to include the software as part of government efforts to curb access to pornographic content on the Internet, a May 19 statement by China's Ministry of Industry and Information Technology said.
However, later yesterday China's Xinhua new agency reported that the implementation of the controversial policy would be delayed.
Hewlett-Packard Co (HP), the world's largest PC maker, is seeking additional information and watching developments on the requirements, spokeswoman Pamela Bonney said on Monday.
Dell Inc, the second largest, will "continue to monitor" the situation, spokesman Jess Blackburn said.
Both declined to say whether their companies would adopt the software.
Meanwhile, a California company that says its software was illegally used in Beijing's new Internet filter threatened unspecified legal action.
Solid Oak Software Inc of Santa Barbara said it had written to Dell, HP and other producers advising them not to install the software on the grounds that it contained illegally obtained intellectual property.
Solid Oak said it was appointing lawyers to represent it in China and would be "moving forward legally" today, company spokeswoman Jenna DiPasquale said in an e-mail.
"I cannot say at this time what specific legal action we plan to take," DiPasquale said.
US trade officials, industry and free-speech groups have appealed to Beijing to revoke its order, which requires suppliers to pre-install the software or include it on a disk with each PC made for sale in China.
Washington said the order, issued abruptly in May, might violate Beijing's WTO free-trade pledges. American officials have cited warnings by computer experts that the software could cause security problems for users.
The US embassy in Beijing did not immediately respond to requests for information on the status of talks with Chinese officials.
Industry groups have received no response to a letter sent last week by 22 US, European and Japanese groups to Chinese Premier Wen Jiabao (溫家寶), appealing to him to scrap the order, said one of the signers, Joerg Wuttke, president of the EU Chamber of Commerce in China.
"We hope we receive feedback," Wuttke said. "We also hope this decision can be postponed, because there are so many uncertainties in connection with the software."
Comments will be moderated. Keep comments relevant to the article. Remarks containing abusive and obscene language, personal attacks of any kind or promotion will be removed and the user banned. Final decision will be at the discretion of the Taipei Times.