Board reshuffle descends into farce
BOARDROOM BLITZ: Control of Taiwan International Securities was unresolved after the management team refused to recognize ballots cast by China Development
An anticipated board reshuffle at Taiwan International Securities Corp (金鼎證券) yesterday had a dramatic twist, with the incumbent and new management teams each claiming to have won the majority of the nine seats.
The securities firm's incumbent management team, led by group chairman Chang Ping-chao (張平沼), yesterday refused to step down and dismissed the marathon shareholders' meeting at about 6pm after announcing it had won six of the nine seats on the board, including two independent directors seats and two supervisory seats.
The one-sided conclusion was the result of the 42.9 percent of votes cast by the incoming management team, representing China Development Financial Co (開發金控), not being counted after the incumbent management team ruled, at about 1:30pm, that the ballots should be sealed for future legal review on the grounds that China Development's stake in the company was acquired illegally and may "endanger the company's interests."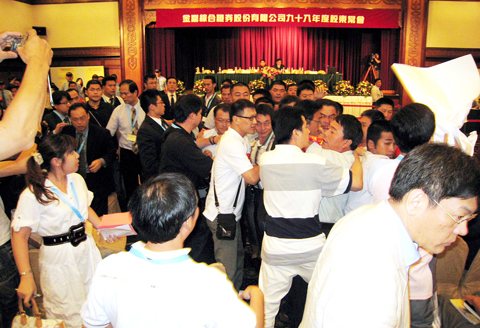 Scuffles break out at the annual shareholders' meeting of Taiwan International Securities Corp in Taipei yesterday after the incumbent and new management teams claimed different election results for the company's board of directors.
PHOTO: CNA
When contacted by the Taipei Times, Chang refused to comment whether yesterday's result in favor of the incumbent management team was legal.
"I am busy now," was all Chang would say.
Before the meeting was convened early yesterday morning, Chang had vowed to "chase China Development down with a bold hand if it were to attempt to replace the brokerage firm's management team."
China Development vice president Willie Tsai (蔡維力), who was later elected a board member at Taiwan International, immediately took over the shareholders' meeting after Chang's team had left.
Tsai ordered a recount of all the votes, including those cast by his company.
China Development then announced it had won seven of the seats before summoning its own shareholders' meeting.
In response to the firm's tug of war, the Financial Supervisory Commission (FSC) yesterday said that further legal complications needed to be sorted out before a conclusion could be reached as to which party had actually won control of the firm.
FSC chief secretary Lu Ting-chien (盧廷劼) told reporters that both parties should seek legal clarification from the Ministry of Economic Affairs to determine if the actions taken by Chang's team were legally-binding.
"Or they can take legal action to settle the dispute," Lu said, adding that the commission hoped that both parties could reach some common ground and ensure that the firm's daily operations were not affected by the dispute.
Shares of both Taiwan International fell NT$0.29 to close at NT$9.15 yesterday, while NT$0.02 was shaved off China Development shares, which closed at NT$7.82.
Comments will be moderated. Keep comments relevant to the article. Remarks containing abusive and obscene language, personal attacks of any kind or promotion will be removed and the user banned. Final decision will be at the discretion of the Taipei Times.