Games to grow 8.4 percent
The local online game industry is expected to earn NT$11.29 billion (US$331.14 million) this year, showing year-on-year growth of 8.4 percent over last year, Taipei-based researcher Market Intelligence & Consulting Institute (MIC) said.
Casual games are expected to take up 46 percent of the market, showing strong momentum, with the rest of the market going to massive multi-player online role-playing games.
The game industry is growing fast around the world as Internet users turn to online games amid the global downturn and layoffs.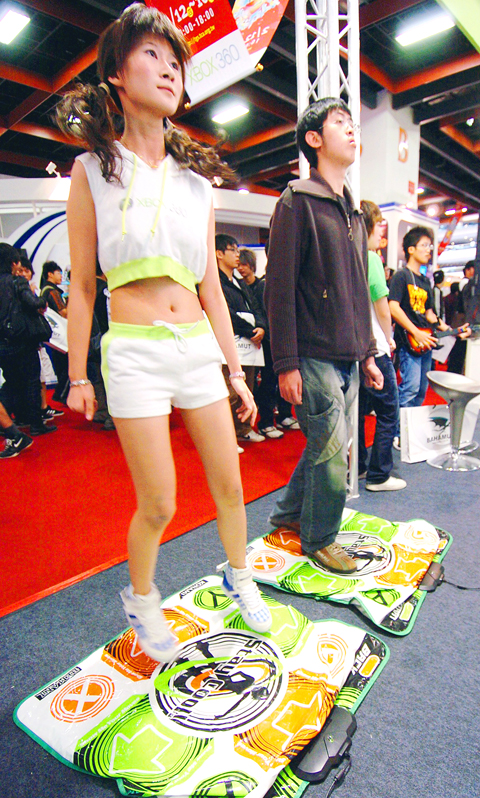 Gamers try out a new dancing game yesterday at the 2009 Taipei Game Show at the Taipei World Trade Center. The show closes on Monday.
PHOTO: LIAO CHEN-HUEI, TAIPEI TIMES
Across the nation, game companies have posted stellar earnings reports as they brace for more good times ahead at the 2009 Taipei Game Show.
Albert Liu (劉柏園), chief executive officer and chairman of Gamania Digital Entertainment Co (游戲橘子), said: "At the present time, domestic gamers spend an average of NT$457 per month on online games, which is around one-half and one-quarter the amount spent by players in neighboring countries such as South Korea and Japan, respectively."
If local game companies could provide more added-value, the potential growth in the industry could be explosive, Liu said.
Wayi International Digital Entertainment Co (華義國際) chairman Huang Bo-yi (黃博弘) yesterday concurred with Liu, saying that although the growth of the game industry is being felt more strongly in today's poor economic times, even without the downturn, the industry grew at an average of 10 percent to 15 percent.
In related news, MIC analyst Luke Hsieh (謝子樵) said that across the country, 80 percent of gamers cited peer recommendations as the No. 1 reason behind choosing a particular online game, while social network recommendations and professional game reviews came in second and third at 55.5 percent and 34.6 percent, respectively.
Moreover, the analyst also found that players subscribe for online entertainment to be with friends and meet new people, suggesting strong stickiness.
Hsieh said he saw business in in-game advertising (IGA), and that social networking would benefit from this booming trend if they take advantage of players' herd mentality to advertise related products and services directly on game sites, as well as drive traffic to specific social networking sites for other business opportunities.
Comments will be moderated. Keep comments relevant to the article. Remarks containing abusive and obscene language, personal attacks of any kind or promotion will be removed and the user banned. Final decision will be at the discretion of the Taipei Times.