US housing slump losses may triple, executive says
GLOOMY OUTLOOK John Stewart said there are more than 18 million vacant properties for sale in the US, more than the entire housing stock of Australia
Losses from the US housing slump may more than triple, said John Stewart, chief executive officer of National Australia Bank Ltd, which on Friday boosted credit provisions more than fivefold.
The world's largest banks and securities firms have posted about US$450 billion in losses and writedowns since the subprime crisis started last year, Stewart told the Australian Broadcasting Corp (ABC). He agreed with some estimates that losses are liable to reach as high as US$1 trillion to US$1.3 trillion.
This estimate "is certainly one of the upper-bound estimates I've seen to date," said Peter Vann, who helps manage US$1.6 billion at Constellation Capital Management in Sydney, including National Australia shares. "Certainly it could get up to a trillion, particularly if the US market deteriorates further, on both housing prices and moving further into recession."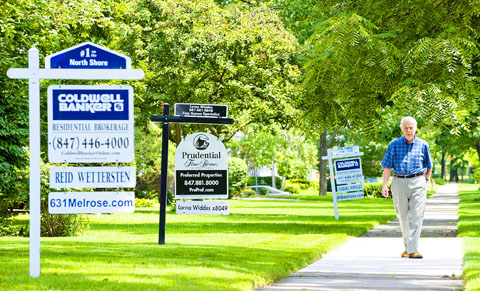 A pedestrian walks down a street with signs advertising existing homes for sale in Wilmette, Illinois, on Thursday. Losses from the US housing slump may more than triple from current levels, John Stewart, chief executive officer of National Australia Bank Ltd, said.
PHOTO: EPA
National Australia, the nation's biggest bank, on Friday fell the most since the October 1987 stock market crash after setting aside an additional A$830 million (US$793 million) for potential mortgage-related losses. The Australian dollar touched a two-week low on the news while the bank led an increase in the cost of protection against defaults by Australian companies on concern more losses linked to the US mortgage market will be announced.
"I think we are not at the bottom yet," Melbourne-based Stewart said on the ABC's Inside Business program yesterday. "Things are going to get worse. There are more than 18 million vacant properties for sale in the United States just now. That's more than the whole housing stock of Australia."
National Australia dropped 13 percent to A$26.56 on the Australian Stock Exchange on Friday, wiping out about A$6 billion of market value.
The Australian currency fell to US$0.9563 in New York from US$0.9585 the previous day and US$0.9702 on July 18.
National Australia won't be reporting any further losses from the US housing slump, Stewart said.
"This is the bottom for us for housing in the US because we are now cleared out," he said in an e-mailed transcript of the interview. "A lot of other banks I'm sure have got unfinished business there."
Still, there's concern about how much National Australia's US$4.5 billion of investments in corporate debt and securities backed by commercial loans may be affected by any deepening of the credit crisis, Vann said.
"If we get a more recessionary environment in the US and in the UK, where we understand most of those loans have been written, then that part of the portfolio could be under additional stress as well," he said.
Comments will be moderated. Keep comments relevant to the article. Remarks containing abusive and obscene language, personal attacks of any kind or promotion will be removed and the user banned. Final decision will be at the discretion of the Taipei Times.