Ambanis feud over talks with MTN Group
MERGER MIX-UP MTN and Reliance Communications are talking about offering wireless services to 1.7 billion people from the Cape of Good Hope to the Himalayas
Brothers Mukesh and Anil Ambani, who split India's Reliance Group in 2006, extended their rivalry with a row over Reliance Communications Ltd's proposal to combine its businesses with MTN Group Ltd.
Reliance Industries Ltd, India's most valuable company and controlled by elder brother Mukesh, objected to the talks, saying it is entitled to the right of first refusal on purchasing a controlling stake in the phone company.
Both of the telecommunications companies on Friday confirmed receiving letters from Reliance Industries (RIL) to this effect. The Anil Ambani-controlled Reliance Communications, India's second-largest wireless operator, is in talks with MTN, Africa's largest mobile-phone company.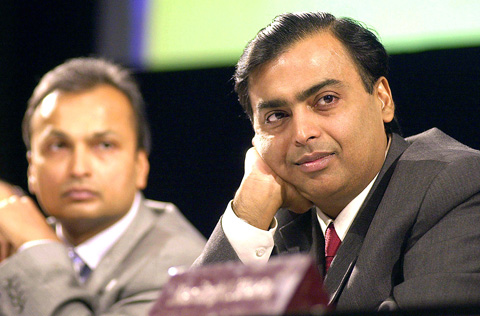 Reliance Industries Ltd chairman and managing director Mukesh Ambani, right, and then vice chairman Anil Ambani listen to shareholders at the company's annual general meeting in Mumbai on June 24, 2004.
PHOTO: AFP
The Ambani brothers are already locked in a legal battle over the pricing of gas. An Indian court is hearing the dispute between Reliance Industries and Anil Ambani's Reliance Natural Resources Ltd.
Reliance Industries wants higher prices and more customers than previously agreed for the gas it's drilling at the Krishna Godavari basin, off the eastern coast of India.
Reliance Natural Resources negotiates fuel supply contracts for group company Reliance Energy Ltd, one of Mumbai's two main power suppliers.
Anil Ambani, 49, is the world's sixth-richest man, with a personal fortune of US$42 billion, according to Forbes. Mukesh Ambani, 51, is ranked fifth-richest by Forbes, with US$43 billion. The brothers split the Reliance Group in 2006 in an agreement brokered by their mother, widow of founder Dhirubbhai Ambani.
Reliance Industries' "claim is legally and factually untenable," Reliance Communications said in its release on Friday.
The company said talks with the MTN Group were "ongoing."
"RIL has in good faith notified both Anil Ambani Group and MTN Group of the stipulations contained in an agreement, the validity of which has never been questioned so far" by Anil Ambani, Paresh Chaudhry, spokesman for Reliance Industries, said in a telephone interview in Mumbai on Friday night.
Reliance Communications and MTN said on May 26 they were in "exclusive" talks for 45 days to offer wireless services in markets with a total population of 1.7 billion people and stretching from the Cape of Good Hope to the Himalayas.
Bharti Airtel Ltd, India's biggest mobile-phone company, last month abandoned plans to acquire MTN.
Bharti said it ended the talks after MTN presented a new structure in which Bharti Airtel would become a subsidiary of the South African company.
Billionaire chairman Sunil Mittal and Singapore Telecommunications Ltd would have had to exchange their majority stake in Bharti Airtel for a controlling stake in MTN, according to the structure, Bharti said.
MTN has received the letter from Reliance Industries, said Nozhipo January-Bardill, spokeswoman for the African company.
The talks "are continuing as normal, they are continuing as if nothing has happened," she said.
"Nothing has changed as far as MTN is concerned," the spokeswoman said in a phone interview on Friday. "We feel that this is a matter between the two entities in India and we are not going to speculate because we are not sure about the veracity of the situation."
Comments will be moderated. Keep comments relevant to the article. Remarks containing abusive and obscene language, personal attacks of any kind or promotion will be removed and the user banned. Final decision will be at the discretion of the Taipei Times.