Intel targeted in antitrust probe
TROUBLE BREWING? The company received a subpoena from US regulators, which increases the likelihood of antitrust charges against the world's largest chipmaker
Computer chip titan Intel Corp said on Friday it had received a subpoena this week from US antitrust regulators after a two-year informal review on "competition in the microprocessor market."
The announcement increases the likelihood of formal antitrust charges against the world's biggest chipmaker.
In a statement, the California company said it had received a subpoena on Wednesday from the Federal Trade Commission (FTC) as part of its review.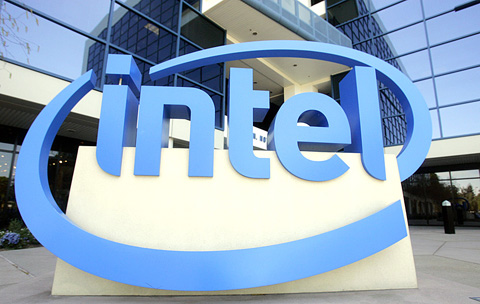 An Intel sign is seen in front of the company's headquarters in Santa Clara, California, on April 14. On Friday Intel said it had received a subpoena from the US Federal Trade Commission concerning its practices in the microprocessor market.
PHOTO: AP
"Since 2006 Intel has been working closely with the FTC on an informal inquiry into competition in the microprocessor market and has provided the commission staff with a considerable amount of information and thousands of documents," the statement said. "By proceeding to a subpoena, the Commission will be able to obtain not only information that Intel has already committed to provide but also information from other parties."
Intel said it "will work cooperatively with the FTC staff to comply with the subpoena and continue providing information."
It added that "the company believes its business practices are well within US law."
Intel said the industry "is fiercely competitive" and noted that prices for microprocessors declined by 42.4 percent from 2000 to end of last year.
"When competitors perform and execute the market rewards them. When they falter and under-perform the market responds accordingly," the company said.
Intel has faced antitrust charges in the EU as well as South Korea and Japan.
After a six-year investigation, the European Commission accused Intel last July of offering "substantial" rebates to computer makers that mostly used its chips.
Europe's top competition watchdog also alleged that Intel had made payments to clients to delay or cancel products using chips made by its US rival Advanced Micro Devices and selling its own chips at below cost in some cases.
AMD, the second biggest computer chip maker, has long accused Intel of using its grip on the market for microchips — the brains of personal computers — to choke off competition.
South Korea's anti-trust watchdog this week fined Intel US$25 million for abusing its dominant market position after a long-running investigation.
Japan's anti-monopoly watchdog in 2005 concluded Intel had used "unfair" practices to secure customers.
Ed Black, president of the Computer & Communications Industry Association — an industry group that represents AMD and other firms concerned about competition issues — hailed the news as positive for competitive practices.
"This is a very positive development," Black said. "Although those of us following the case were pleased in the response from major competition agencies around the world, the lack of a formal investigation by the FTC was disheartening."
Black said that "the facts and evidence are strong enough and [the FTC] needs to open a formal investigation."
He argued said that based on probes in Japan, South Korea and the EU, "there is an abundance of evidence not in Intel's favor" on anticompetitive actions.
He said Intel supplies chips for 80 percent of personal computers sold and gets 90 percent of revenues from the sector.
"This is a superdominant position," he said.
While dominance is not illegal, US law seeks to prevent dominant firms from using their market power in anticompetitive ways, Black said.
"If they were conditioning rebates to computer manufacturers on limiting or foregoing use of their competitors' products, then this would be a strong indication of an antitrust violation," he said. "Indeed, this is what authorities in Japan and Korea have already found."
Analyst Vasanth Sridharan at Silicon Valley Insider called the development "a win for AMD, which hasn't had many lately."
"AMD has been claiming for years that Intel has used predatory pricing [among other techniques] to keep AMD out of most PC manufacturer's boxes," he said.
Comments will be moderated. Keep comments relevant to the article. Remarks containing abusive and obscene language, personal attacks of any kind or promotion will be removed and the user banned. Final decision will be at the discretion of the Taipei Times.